Hot News
Unique French Pastries Too Beautiful To Eat?
Let's face it, in Paris, it will seem like there's a pâtisserie on every corner. The presentations are gorgeous, so how do you decide which French pastries to buy? I thought I would share a list of rather unique French pastries that might be too beautiful to eat….but trust me, you'll surely want to eat them because they are so delicious.
When in France, head to some of the renowned pâtisseries, such as Pierre Hermé, Ladaurée, or Hugo et Victor. As you'll see in my list, Angelina is also listed, not just for the hot chocolate but for the most beautiful Mont Blanc dessert. All of these treats are works of art and they will not disappoint. You'll want to take your time savouring every bite; however, when you're done you'll likely wish you had ordered two!
Difference Between A Pâtisserie And Boulangerie 
Just to clarify, the word pâtisserie has two meanings: the French pastries you eat and the shop where they are sold. The pâtisserie will have a maître pâtissier, or master pastry chef. 
A boulangerie is a bakery that sells bread (ie. baguettes, croissants, etc) and the shop can only use this term, "boulangerie" where the breads are made on the premises. There is a crossover where you'll find a boulangerie selling some pastries as well, such as tarts and eclairs. So, if you're going to spend good money on a French pastry, you certainly want it to be the best.  
1. Mont Blanc (Angelina, Paris)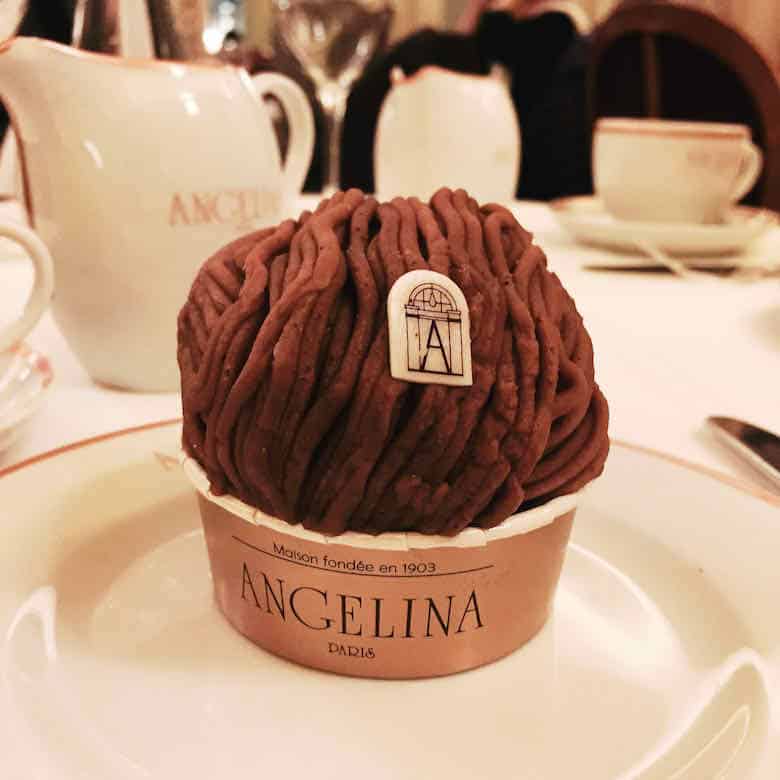 While many people are familiar with the famous "L'Africain" hot chocolate at the renowned tearoom in Paris, Angelina, the Mont Blanc pastry is its signature pastry. It was created in the early 1900s and is a meringue topped with light whipped cream and covered with chestnut vermicelli (which is sweet chestnut purée, formed into thin noodles, like vermicelli).  The ingredients combine to create a chewy, crunchy, smooth, and not overly sweet or rich pastry.
This famous dessert originated in Italy and, as you can see in the photo, it resembles a snow-capped mountain like Mont Blanc.
2. Tarte Infiniment Vanille (Pierre Hermé, Paris)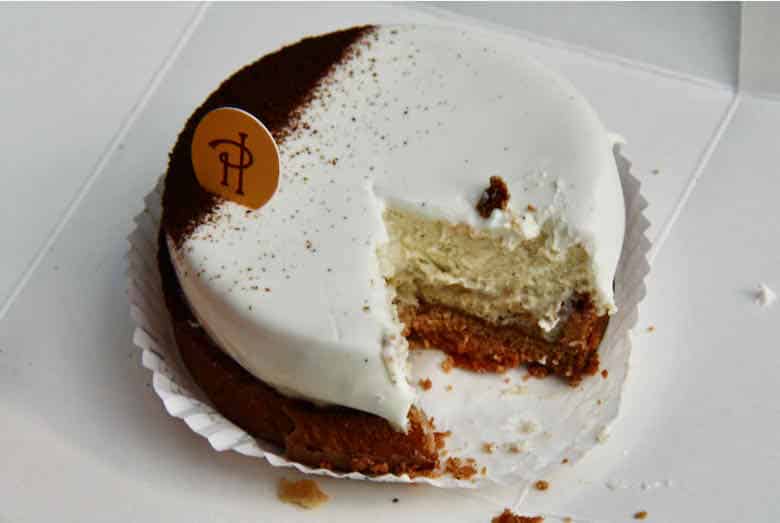 Pierre Hermé has been called "the Picasso of Pastry" by Vogue. Just don't say that his masterpiece is just another "vanilla tart". It's so much more! While Pierre Hermé is also well known for his macarons and chocolates, his Tarte Infiniment Vanille (Infinitely Vanilla Tart) is the star attraction.  This exquisite pastry has a vanilla shortbread base topped with a lovely vanilla mousse that is a combination of white chocolate, vanilla ganache, and mascarpone cream.
This was the "signature" tarte I enjoyed in Paris and the flavour was rich but not overpowering. I don't know if it is still available because Hermé also came out with a gluten-free version called the "Tarte Infiniment Vanille Gourmadise Raisonée". 
In collaboration with Frédéric Bau and nutritionist Thierry Hanh, Hermé did a  "reinterpretation" of his classic recipe. It uses rice flour in the base and the top is made with skimmed milk with egg whites in place of the ganache and mascarpone cream. Vanillas from Tahiti, Mexico, and Madagascar are blended into the mixture.  One of these tarts has almost 40% fewer calories. 
3. Salted Caramel Éclair (L'Eclair de Génie, Paris)
If you think an éclair is just choux pastry dough filled with whipped cream and topped with chocolate icing, you'll quickly change your mind once you've had one of L'Eclair de Génie's éclairs.  This popular bakery in the Marais district of Paris opened in 2012 by British pastry chef Christophe Adam. 
Its Facebook page describes the shop as "chocolaterie créative, contemporaine et rock'n'roll" and the designs are definitely creative. While it has expanded its selection to include cookies, chocolates and spreads, the éclairs are the main attraction. They are beautiful to look at but even better to eat. 
Inventive flavours range from Framboise Litchi to Lemon Coconut and Raspberry Passion and the designs are colourful and unique. My choice was the Eclair Caramel au beurre salé—salted caramel. As soon as I bought it I couldn't wait to eat it. 
Right on the side walk I slowly bit into it, taking my time to enjoy every morsel. It was absolutely delicious. While others would have purchased two or three éclairs, I felt that this particular éclair was just right.
There are 3 locations in Paris and unfortunately, the one in Vancouver Canada closed in 2019.
4. Le Magnifique (Aux Merveilleux de Fred, Paris)
Chef Fred Vaucamps is the genius behind Aux Merveilleux de Fred. He opened his first bakery, a traditional pâtisserie, in Hazebrouck in 1982. But it was his invention of Le Merveilleux that really put his name on the map. 
The creation was a meringue surrounded by chocolate whipped cream and coated with dark chocolate shavings. The first Aux Merveilleux de Fred shop was opened in Lille in 1997. Today there are numerous locations in France (9 in Paris), Belgium, Germany, and stores in Geneva, London, New York, Tokyo, and Toronto (called "Marvelous by Fred"). You can't miss the stores which have large windows and sparkling chandeliers inside. 
Just stand in front of the window at Aux Merveilleux de Fred and gaze at the trays of meringue and display of merveilleux pastries and breads and watch as the incredible meringue pastries are made. Waffles (Gaufres Flamandes-Flemish vanilla waffle) and breads (ie. pain au chocolate, crossants) are also sold in the bakery.  The Cramique is especially popular. It's a Belgian and Northern France brioche is also available with raisins, chocolate chips, or sugar.
Box Of 6 Mini Merveilleux
Although there are many different merveilleux sizes (minis, individual, and large cakes that can serve up to 24 people), I purchased a "coffrets de mini" (box of 6 mini merveilleux) and it was the perfect way to sample six flavours of Aux Merveilleux de Fred. All were gluten-free except for the L'Incroyable. In the box were:
Le Merveilleux (The Marvelous)-the signature "Merveilleux" has meringue, chocolate whipped cream, coated with dark chocolate shavings.
L'Incroyable (The Incredible)-meringue, spéculoos [gingerbread] biscuit whipped cream coated with white chocolate shavings
L' Impensable (The Unbelievable)-meringue, coffee whipped cream coated with crystallized coffee meringue
Le Sans-Culotte (The Revolutionary)-meringue, caramel whipped cream coated with crystallized meringue.
L'Excentrique (The Eccentric)-meringue, cherry whipped cream coated with crystallized cherry meringue
Le Magnifique (The Magnificient)-meringue, praline whipped cream coated with caramelized almond and hazelnut chips
They are all very light and sweet. My favourite? Le Magnifique. When you bit into it, it was cool with a crunchy interior (meringue) and crunchy exterior (the nuts). I loved the two textures-smooth and creamy yet crunchy. I realize meringue and whipped cream can have a lot of sugar; however, this the mini size was just perfect. 
5. Millefeuille Vanille (Hugo et Victor, Paris)
When I was growing up, my mother made "Napoleon slices" with graham crackers, vanilla pudding, whipped cream, and topped with icing. Back then (decades ago), this was considered the Canadian variation of a millefeuille and I loved it. However, when you visit France and have the real thing, you realize the "Napoleon" isn't even close.
Millefeuille (pronounced "meel-foy") literally means "1000 sheets or layers" and in this  case it is the famous French pastry that has layers of puff pastry with a vanilla cream filling. Many people think it's the same thing as the Italian dessert, Napoleon; however that pastry is made with almond paste.
The millefeuille vanille I had at Hugo and Victor in Paris had layers and layers of caramelized puff pastry. And in-between, was a Bourbon vanilla ganache and light Bourbon vanilla cream made from 100% Madagascar vanilla pods. It was topped with sugar and icing. 
It had a totally different texture, taste, and experience from mom's dessert. In my journal I wrote that the the pastry was very flaky and the entire dessert was light and delicate with a strong but not overpowering vanilla flavour. It was perfect with a cup of tea.
Victor and Hugo's millefeuille has been voted one of the top 5 millefeuilles in Paris by newspaper, Le Monde. 
6. Citronnier (Fabrice Leroy-La Cigale, Menton)
When I wrote about all the lemon pastries I discovered in Menton during their Lemon Festival (Fête du Citron), the Citronnier was on the list. It is perhaps my favourite French pastry because it is soooo lemony. Guess I REALLY liked it because the notes in my journal describe it as "divine" :).
The chef at F. Leroy La Cigale created this lemon mousse pastry that looks like a lemon. The mousse was light, fluffy, and was tangy, just like a lemon would be and it had drizzles of lemon caramel within the mousse and a shortbread cookie base.  If you're going to be in the lemon capital of France, you really should celebrate with a Citronnier!
7. Macarons (Ladurée or Pierre Hermé, Paris)
I had to include macarons on my list because not only do they come in so many colours but biting into one is just pure bliss: crunchy on the outside and chewy on the inside. It's very hard to just eat one. As they come in many flavours, such as raspberry and pistachio, it's a treat trying different ones.
As I now know how to make macarons I would prefer NOT to buy them; however, in France it's an extra, special treat and my opportunity to try more flavours. From Ladurée or Pierre Hermé you won't be disappointed. The only suggestion is: do not buy the extra-large ones. It's more fun to sample different ones but that's harder to do when you're eating macarons that are 2 inches in diameter. 
If you want to bring home a gift of macarons like I did, I have one suggestion: either bring a cookie tin (or buy one in France) so that the macarons are well protected. I bought a dozen for my niece and they all survived beautifully!
If you're interested in discovering more about French pastries, breads, and foods, check out these posts:
Do you have a favourite French pastry? Please share yours in the comment section.
Post to your favourite board on Pinterest.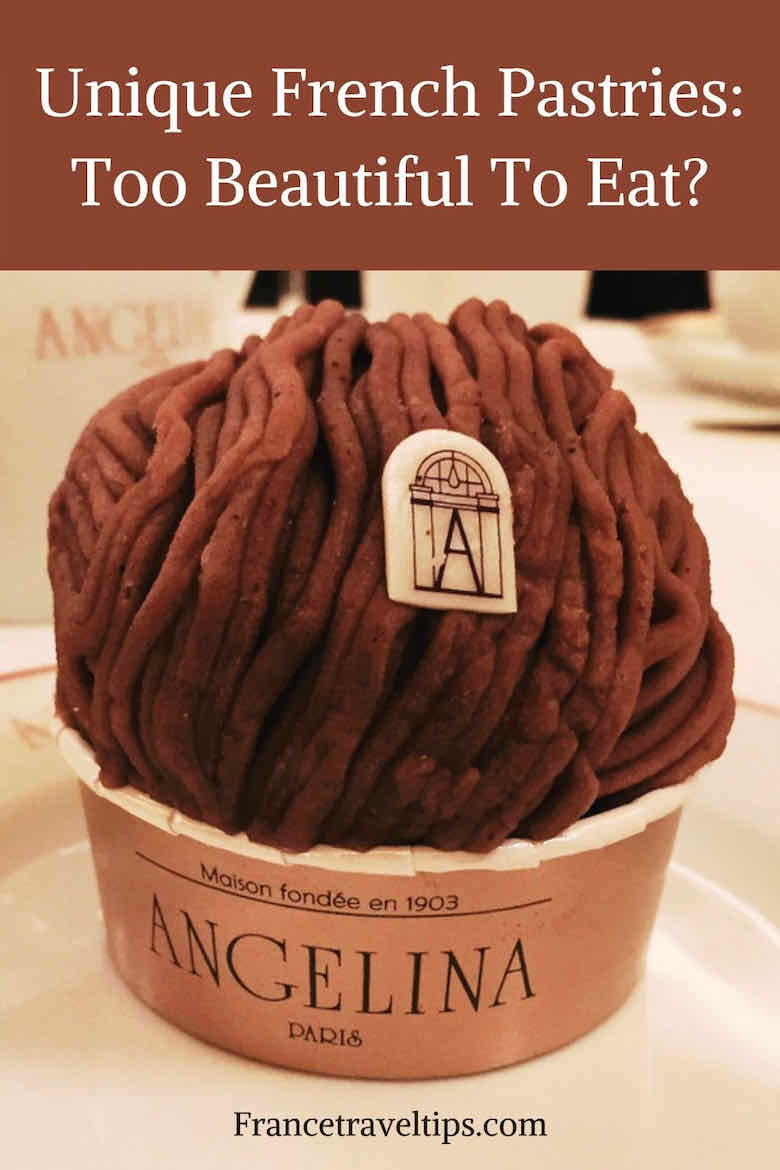 Source :www.francetraveltips.com