Hot News
Best Places to Stay in Puglia, Italy
The heel to Italy's boot is decorated with atmospheric castles, sun-baked beaches and postcard-perfect villages. While it's often overshadowed by the fame of Tuscany and the Amalfi Coast, Italy's Puglia region offers all the magic ingredients the country is known for and so much more. A slow-living vibe blends with scenic olive groves, rolling fields blanketed with wildflowers and all the local cheese, pasta and wine your waistband can handle. 
In terms of where to stay in Puglia, take your pick from whitewashed villages perched high above the sea, old quarters lined with cobblestones and palaces, and countryside havens amid lush vineyards. Settle in and explore via day trips or hop around for a taste of each area. From swimming in astonishing natural pools to exploring underground cave systems and taking selfies with medieval castles, get set to fall in love with Puglia. 
Where to Stay in Puglia for Beaches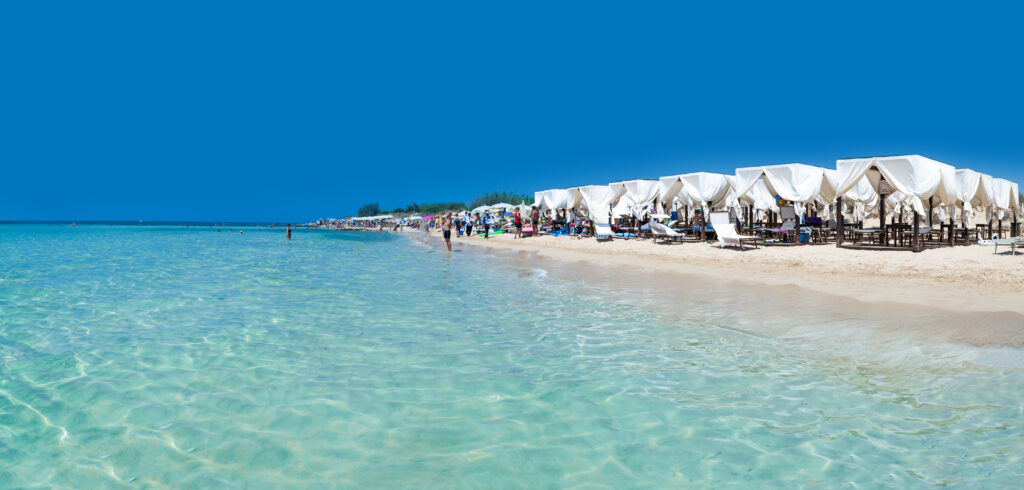 Nicknamed the 'Maldives of Salento', Pescoluse is surrounded by some of the best beaches in Puglia. Kissed by the clear, aquamarine Ionian Sea, the seaside hamlet is an idyllic base for long strolls across fine, buttery sand and lazy days ending in lively tavernas. Beach-hop to the nearby resorts of Torre Pali and Torre Vado to throw down your towel on a different golden stretch each day.  
Best Places to Stay in Puglia for Families
Just a short drive from the fun at Zoosafari Fasanolandia in Fasano, Torre Canne is a beach resort that's an ideal base for exploring Puglia with kids. A picturesque lighthouse overlooks swaths of white sand and crystal clear, calm water for safe splashing with the little ones. You'll be on the doorstep of the Dune Costiere Natural Park, water sports bring the thrills and casual seaside restaurants cater to fussy taste buds. 
Where to Stay in Puglia for Couples
One of the most photographed towns in Italy, Polignano a Mare rests high on a limestone cliff overlooking the sparkling Adriatic. Though it attracts plenty of day-trippers, it tends to empty out by night in time for romantic dining and enjoying views from some of the most romantic hotels in Puglia. Stroll hand-in-hand through the cobbled streets of the atmospheric Old Town and take boat trips to explore stunning sea caves. 
Best Places to Stay in Puglia without a Car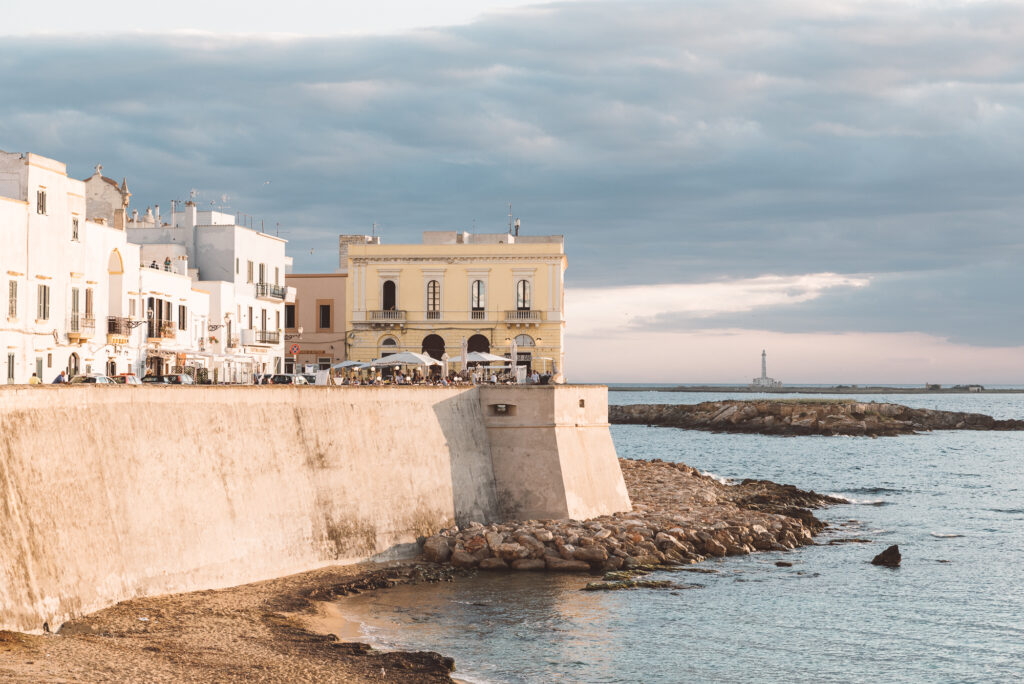 For a large dose of beach fun combined with seafood restaurants, history and nightlife all within easy walking distance, Gallipoli is among the best places to visit in Puglia. The port town features a historic quarter reached via a bridge, along with spectacular churches, boutiques and buzzing nightclubs. Rail and bus lines ensure that it's a breeze to hop around the region on day trips.  
Best Areas to Stay in Puglia
The best places in Puglia are framed by sweeping coastal panoramas and impossibly pretty towns with everything you need for an unforgettable Italian escape. Whether you're looking for a slice of serenity or a buzzing vibe, la dolce vita is yours for the taking around every scenic corner. 
SALENTO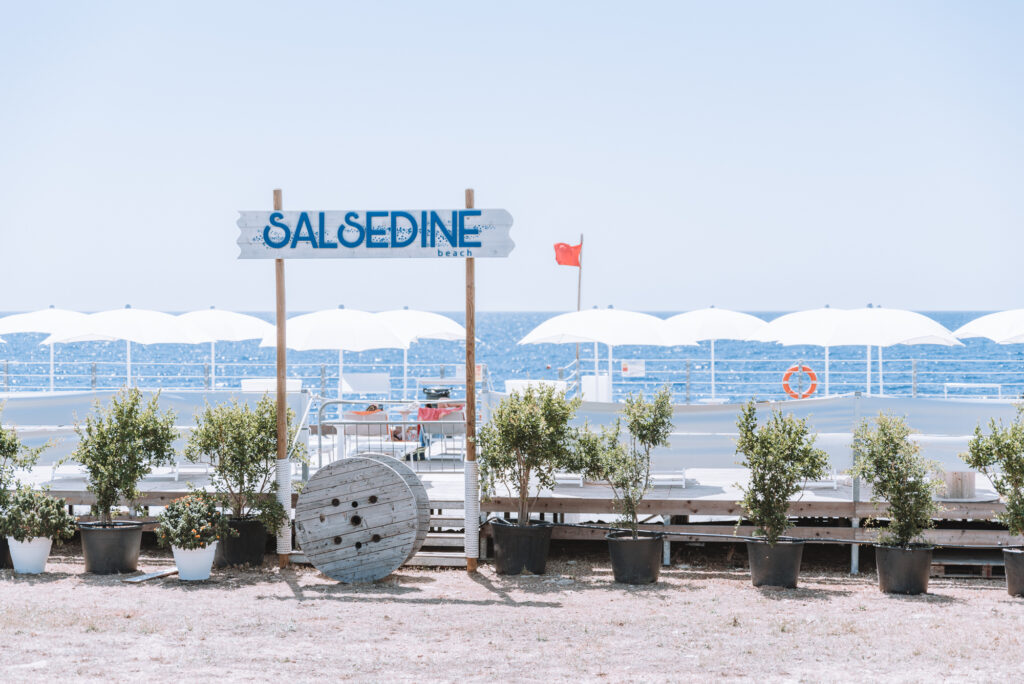 The Ionian and Adriatic seas join on the Salento Peninsula, so it's not surprising that the region is home to some of the best Puglia beaches. Combined with ancient history, enchanting towns, nature reserves and rustic charm, it presents a cocktail of all things good for every type of traveller. 
From Santa Maria di Leuca to Gallipoli and Porto Cesareo, the region's seaside towns offer unique personalities framed by spellbinding backdrops. Discover Lecce's church-lined alleyways and archaeology museums. Otranto's cathedral contains the eerie Chapel of the Dead and majestic mosaics. Are you a wine lover? Salento's wine country is dotted with lush estates to sample the renowned local drops complete with beguiling landscapes. 
LECCE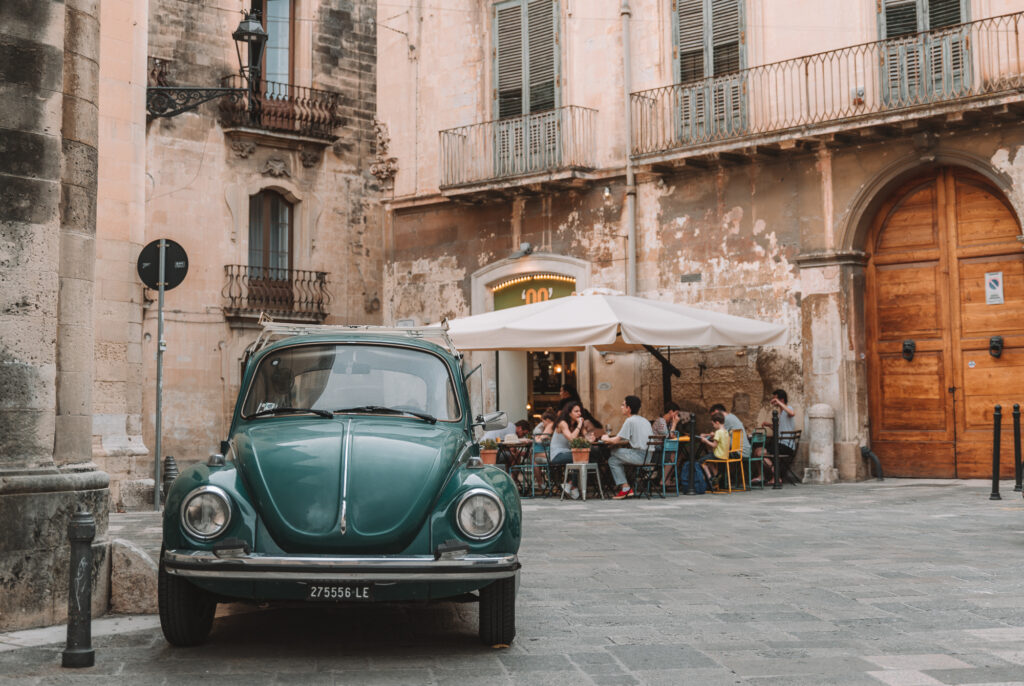 It's hard to put your camera down in Lecce, a town adorned with the gargoyles and imposing columns of 17th-century baroque architecture. As a university town, a lively vibe joins a huge range of boutiques, restaurants and Lecce nightlife. Delve into the area's papier-mache tradition, discover hidden piazzas and explore the ancient Roman amphitheatre. There's plenty to do, but sipping coffee in charming cafes and simply soaking up the atmosphere is at the top of the list. 
PORTO CESAREO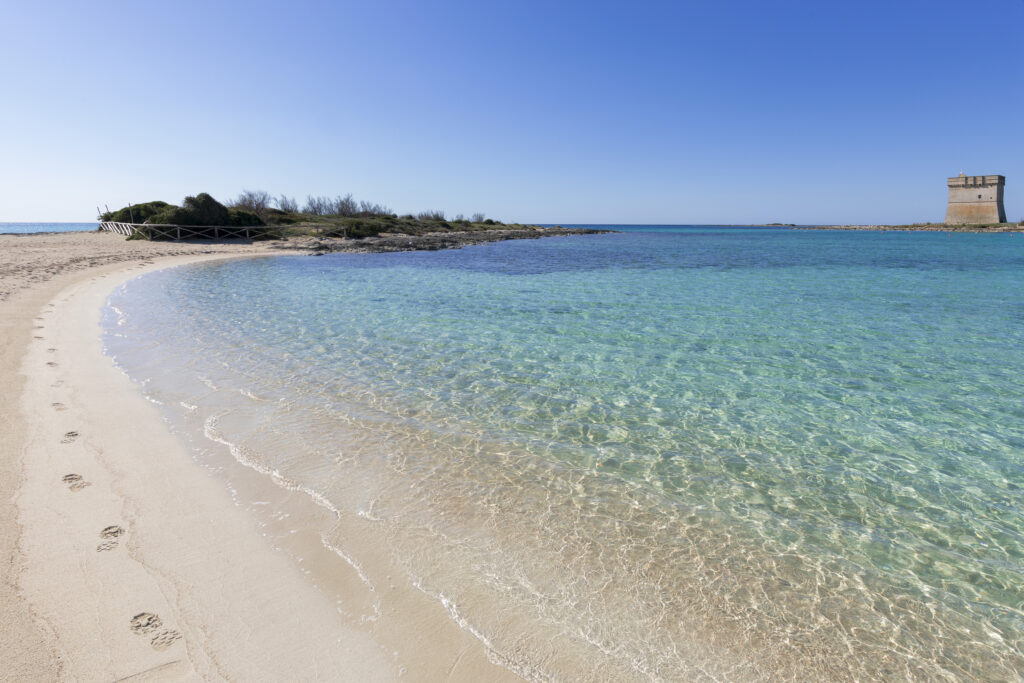 Stretch out across around 17 kilometres of soft sand in one of the most beautiful places to stay in Puglia for beach lovers. Sitting pretty on the Ionian coast, Porto Cesareo fronts a sparkling, protected bay and a marine conservation area that's a diver's paradise. Admire colourful fishing boats bobbing in the marina and tuck into the abundant offerings from the sea at friendly restaurants. 
NARDO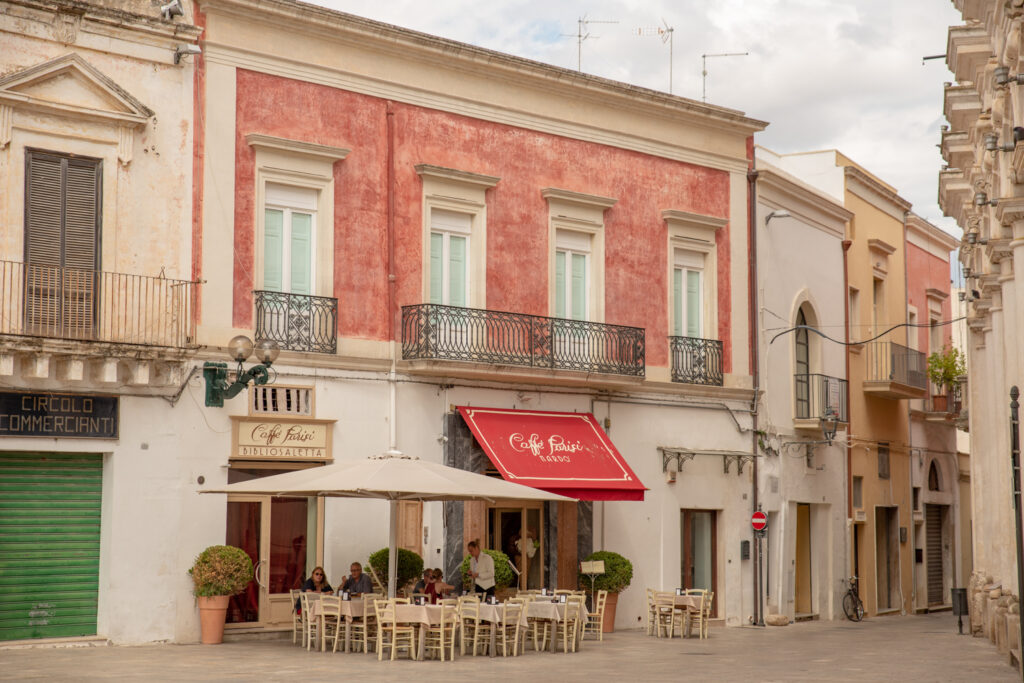 Expect a warm welcome, plenty of gourmet feasts and space to enjoy baroque churches and decorative balconies in Nardo. Somewhat off the tourist trail, Nardo's Piazza Salandra and historic palaces are a history buff's delight. If you love cycling, hiking and peaceful picnics, pack a basket to enjoy with views of olive groves, pine forests and the nearby coast. 
SANTA MARIA AL BAGNO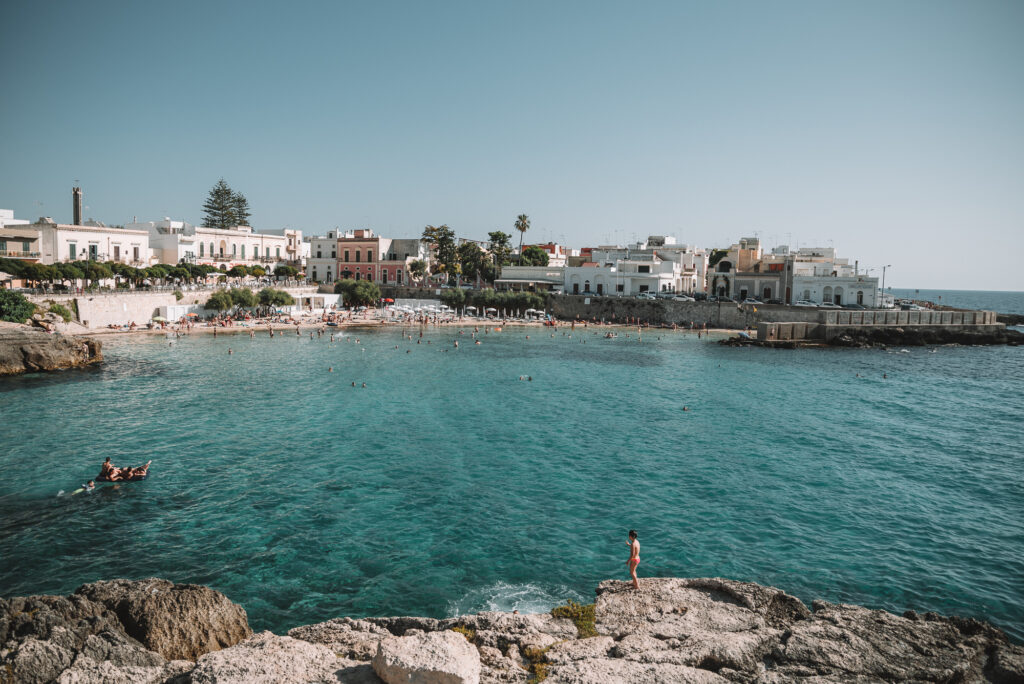 If your Puglia itinerary features long walks in stunning national parks, base your holiday in the seaside stunner of Santa Maria al Bagno. Porto Selvaggio, otherwise known as Wild Port, rests on the town's doorstep. You'll explore rocky coves backed by olive groves and pine trees. Back in town, dine along the picturesque promenade, dive into the turquoise Ionian at the town beach and enjoy long, lazy lunches with the sea breeze.  
GALLIPOLI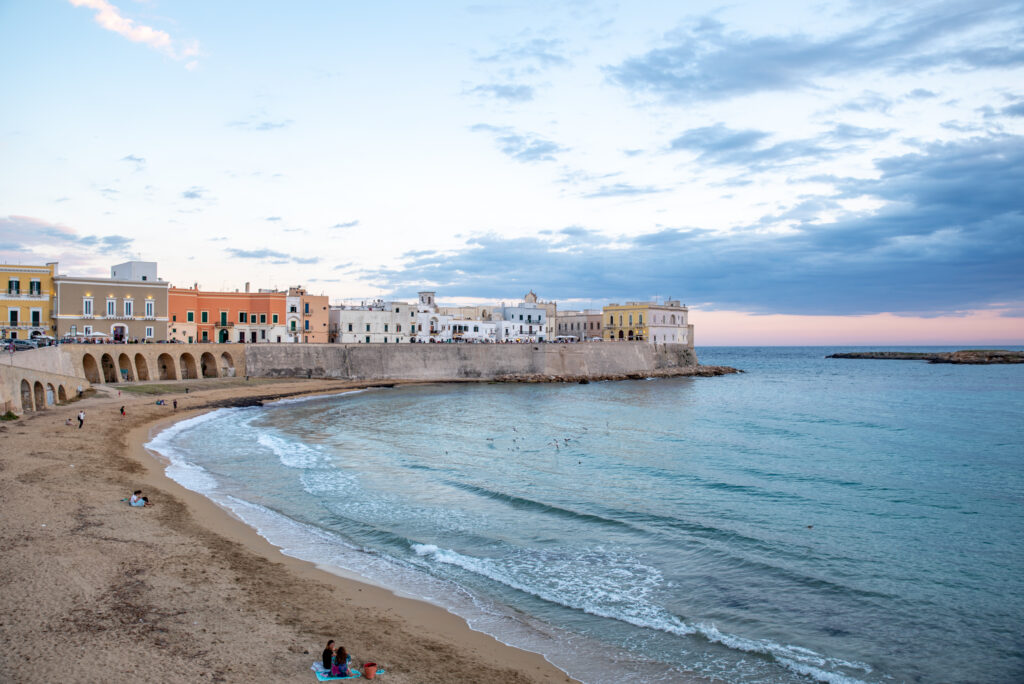 Meander through the warren of narrow streets in Gallipoli's Old Town until you reach the sweeping seafront promenade. Along the way, you'll see the baroque Sant' Agata Cathedral and views from walls and bastions. Then, pop over the 17th-century bridge to the more modern centre. When hunger strikes, try Gallipoli's speciality of sea urchins and watch fishermen reeling in the catch of the day from the port. Once summer hits, this is one of the best places to stay in Puglia for sizzling nightlife. 
PESCOLUSE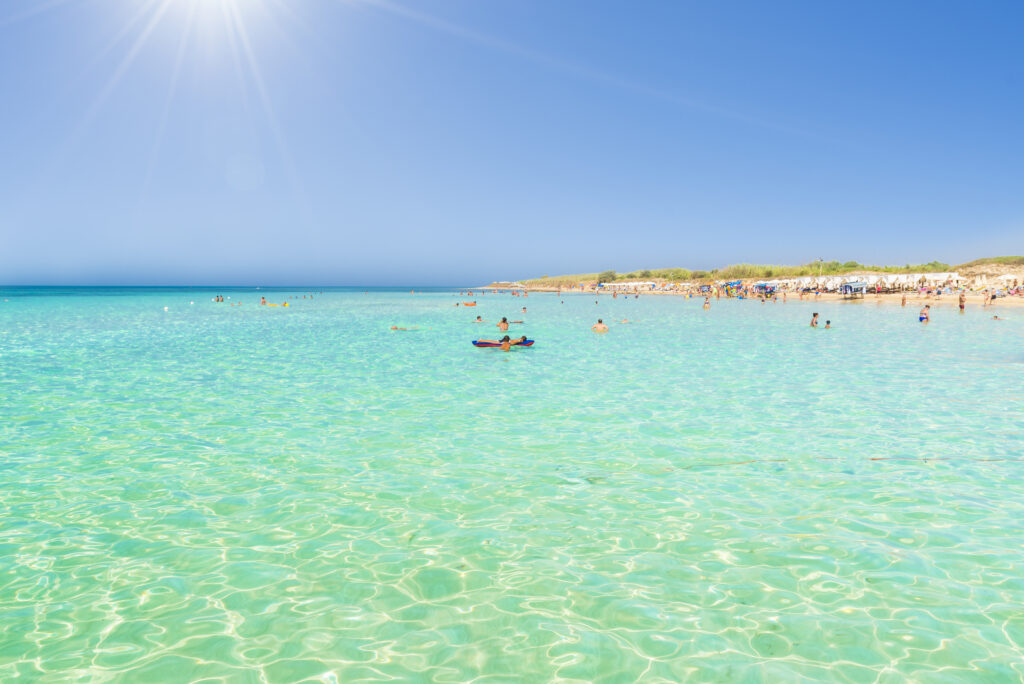 A great choice for Puglia family holidays, Pescoluse is famously known as the 'Maldives of Puglia' for its spectacularly clear, aqua water backed by dunes. If you can drag yourself out of the sea, you'll enjoy the marina and all the perks of a seaside resort, like water sports, pizzerias and ice cream shops. Explore the surrounding area to see karst caves and archaeological sites. 
SANTA MARIA DI LEUCA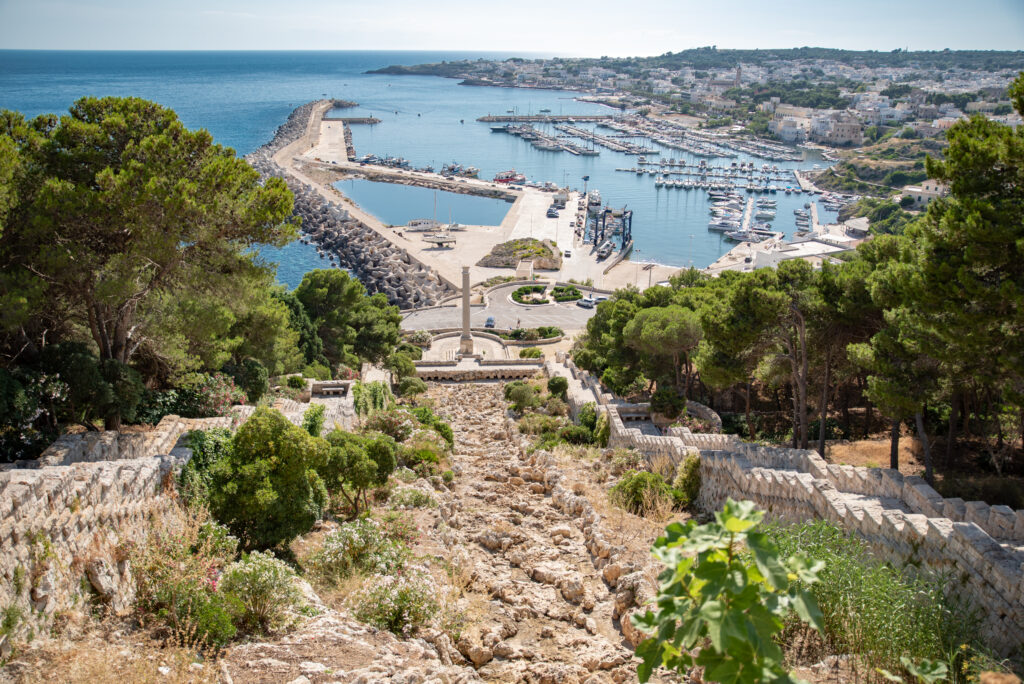 The southernmost point of Salento, Santa Maria di Leuca rests on the promontory where the Ionian and Adriatic seas meet. Ancient origins are still seen via inscriptions in caves and grottoes. A striking lighthouse and the basilica dominate the coastline, so there's plenty of history to delve into. Take a boat cruise around mysterious grottoes, then admire the historic summer villas of the Pugliese aristocracy that rest along the seafront.  
CASTRO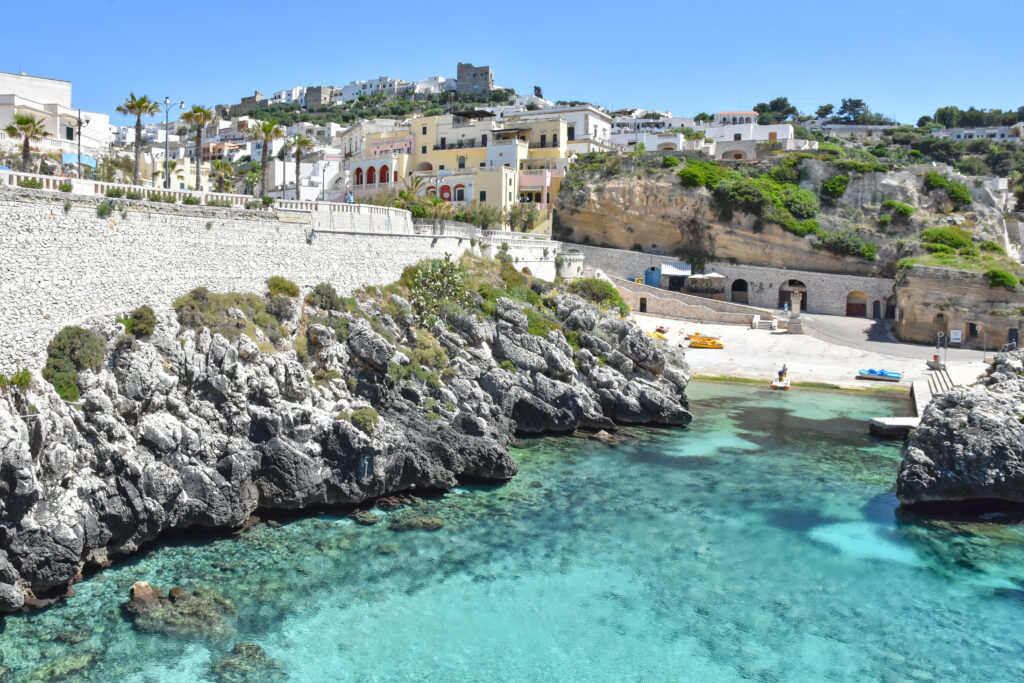 Brimming with old-world charm, Castro perches high atop a cliff with incredible panoramas of the Adriatic. Explore the labyrinth of lanes in the medieval Old Town, complete with a 12th-century cathedral and a clifftop piazza. Down below, a bustling marina is a hub of seafood restaurants and rocks perfect for soaking up the sun before diving in for refreshing dips. Don't miss a boat trip for snorkelling around the fascinating caves that dot the limestone cliffs. 
SANTA CESAREA TERME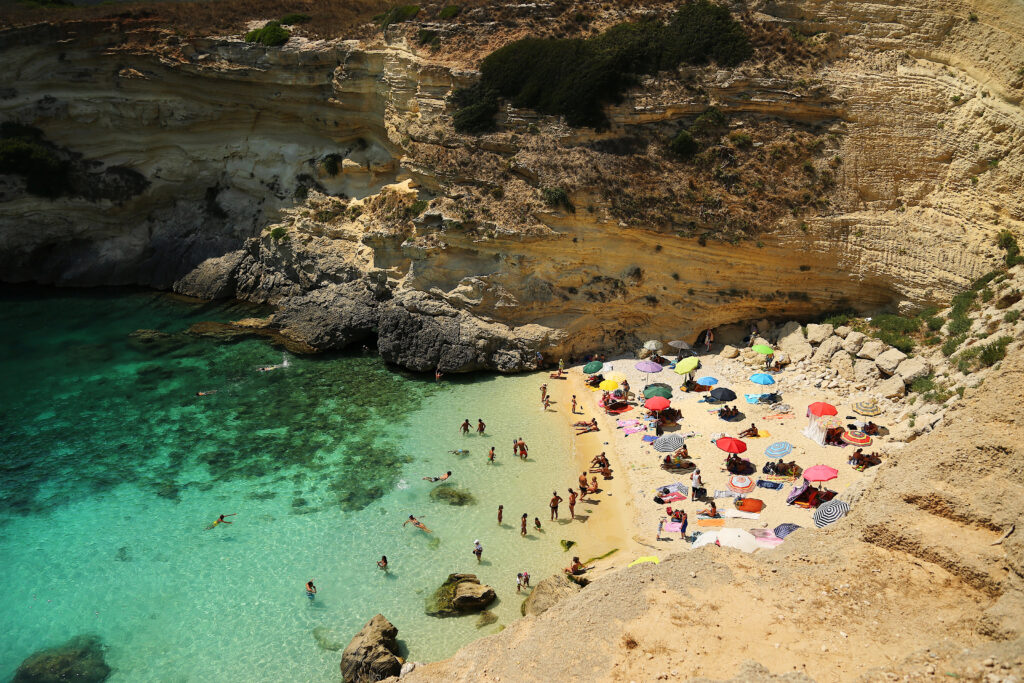 Spend a week in Puglia immersed in thermal hot springs for complete rejuvenation. Santa Cesarea Terme is an upmarket spa town that's been attracting local aristocracy since the 1700s. Majestic palazzos rise from the cliff face and the seafront promenade buzzes with cafe terraces and shops. Adventure around the caves and coves of the cliffs to find rock arches within a protected nature park. 
OTRANTO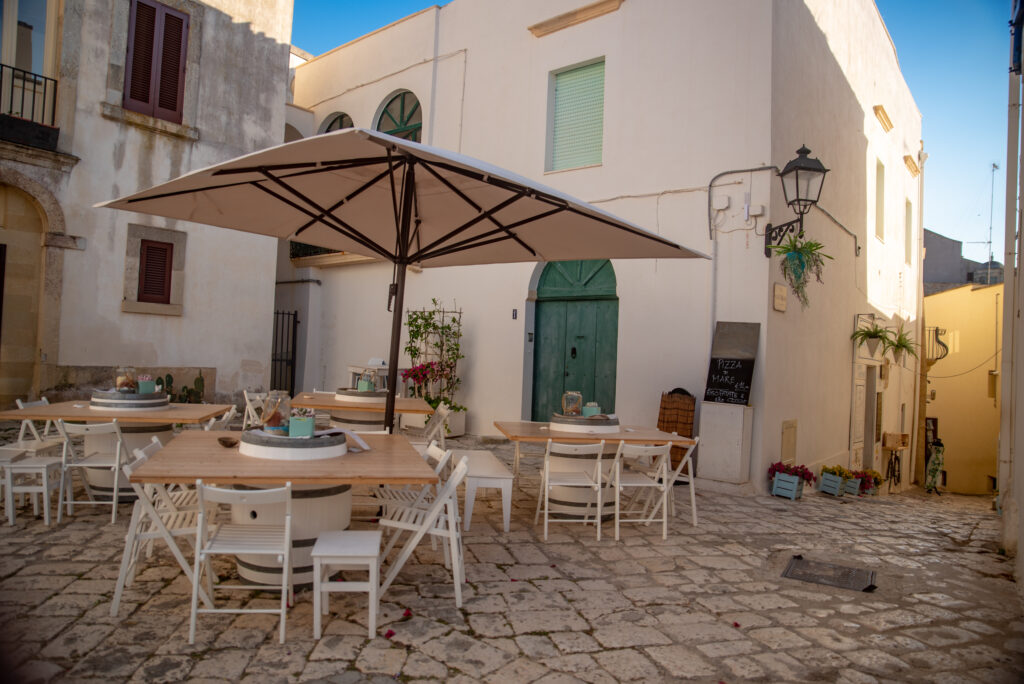 In terms of Puglia destinations for romantics, Otranto's enchanting old quarter sets the scene you're looking for. Get a bird's eye view of the gorgeous coastline from cafes lining the ramparts and see the stunning mosaic floor of the Romanesque cathedral. Shop among whitewashed buildings for handcrafted gifts by local artisans and pop inside the Castle of Otranto. A string of dreamy beaches includes the stunning cove of Porto Badisco. 
TORRE DELL'ORSO & SAN FOCA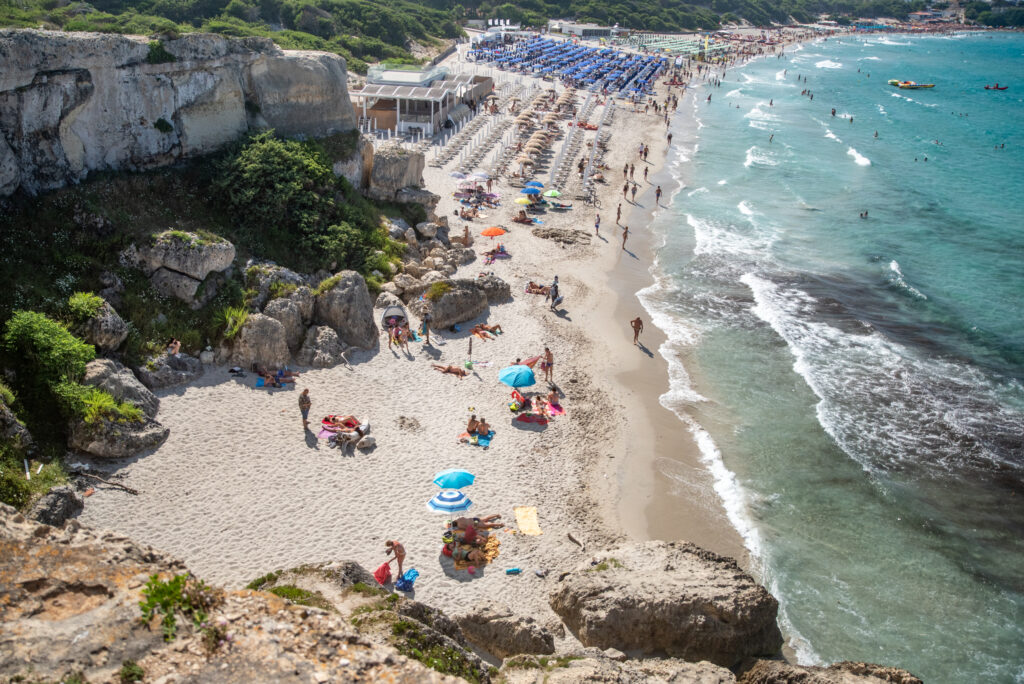 For beach holidays in Puglia, stay between the astounding stretches of Torre dell'Orso and San Foca. Framed by a pine grove, Two Sisters Beach is famous for its photogenic twin sea stacks and the 16th-century Bear Tower. Sip local wine at beach bars after lazing on sunbeds, then head over to the Blue Flag stretch fronting the fishing village of San Foca. Hang around for sunset strolls on the promenade and join the locals at fun pubs in town.
ITRIA VALLEY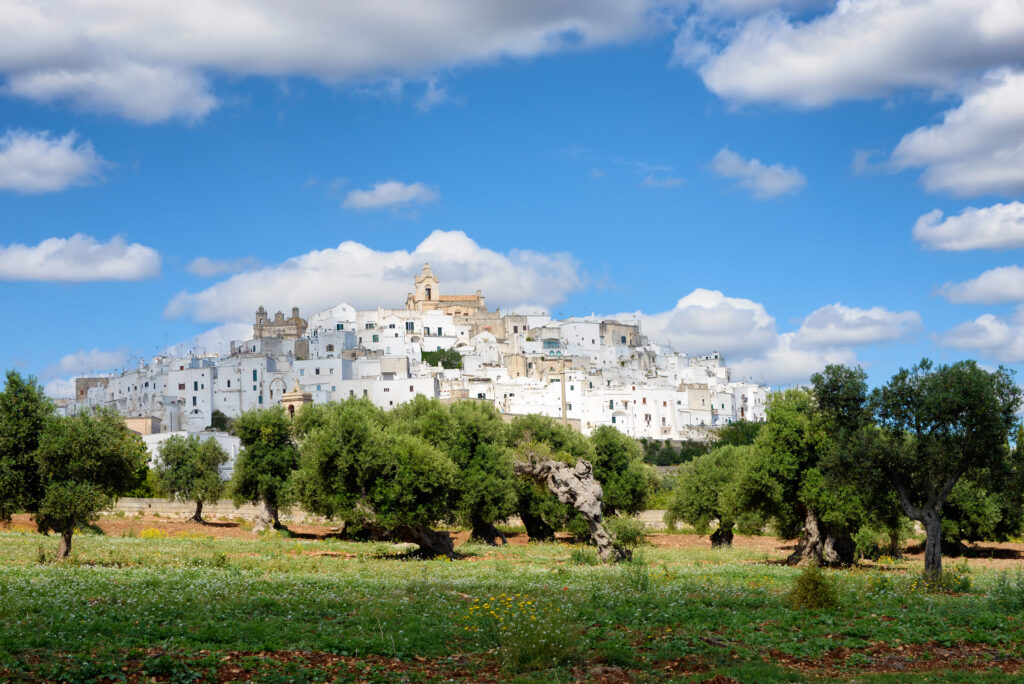 Imagine driving in Puglia on country lanes sliced by lush hills, vineyards, olive groves, farmhouses and achingly pretty villages. The valley rests in the limestone plateau of the Murgia, a natural wonderland of streams and ravines. Visit the caves of Castellana Grotta for a guided tour of stalactites and stalagmites. 
Itria Valley is a foodie paradise, especially for fans of olive oil, capocollo ham and wine. Make a beeline to whitewashed Locorotondo for sparkling white wine and cheese. Unique homes with coned roofs straight from fairy tales, trulli dot the countryside and fill the UNESCO-listed town of Alberobello. Martina Franca is the commercial area with a historic centre characterised by baroque architecture. 
OSTUNI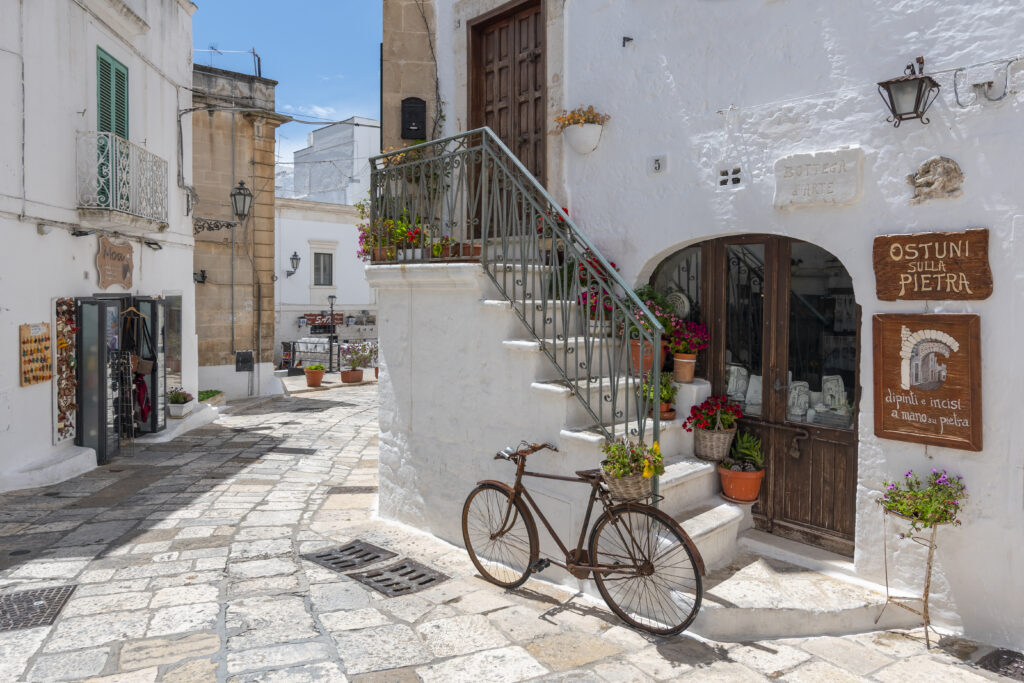 Whitewashed buildings tumble down the hill in Ostuni, nicknamed the White City. The town's 15th-century gothic cathedral tops the majestic scene and defensive walls still stand today. Get lost in the web of laneways and stumble across colourful doors, flower-strewn windowsills and decorative arches. Boutiques, souvenir shops and restaurants fill your bags and your hunger pangs with local treats. 
LOCOROTONDO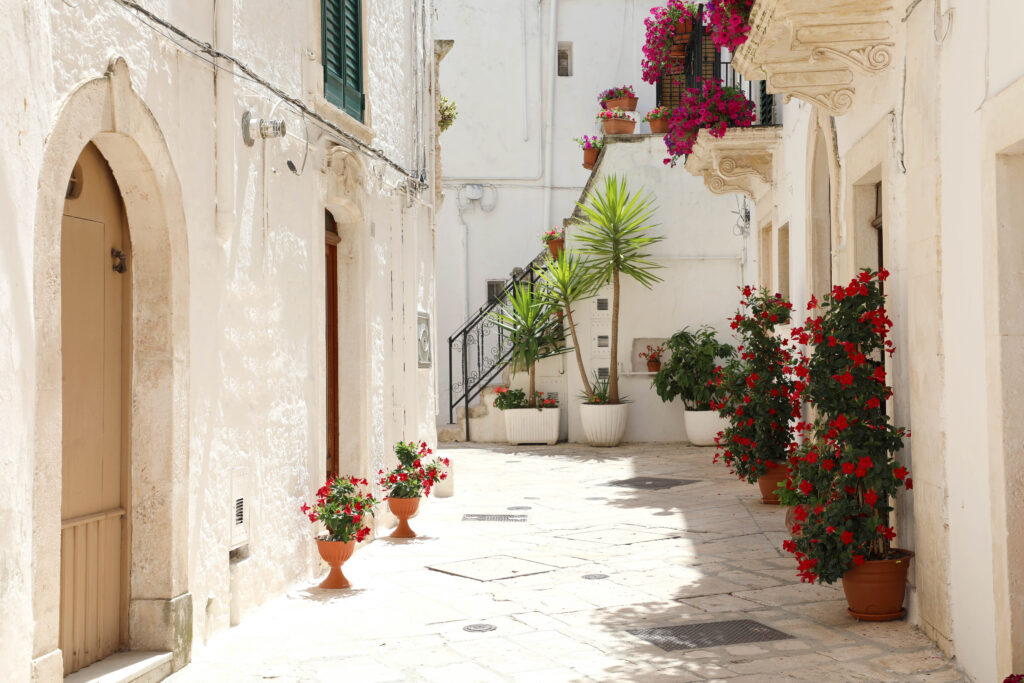 Window boxes spilling with red geraniums decorate the whitewashed buildings of Locotondo. The church of Santa Maria sits in the centre of town and tiny streets branch towards charming restaurants, imposing churches and baroque archways. Its highest point offers sweeping countryside views for epic photos. After hours of slow exploration, order u tridde, a local pasta speciality made with pecorino cheese, parsley and turkey broth. 
ALBEROBELLO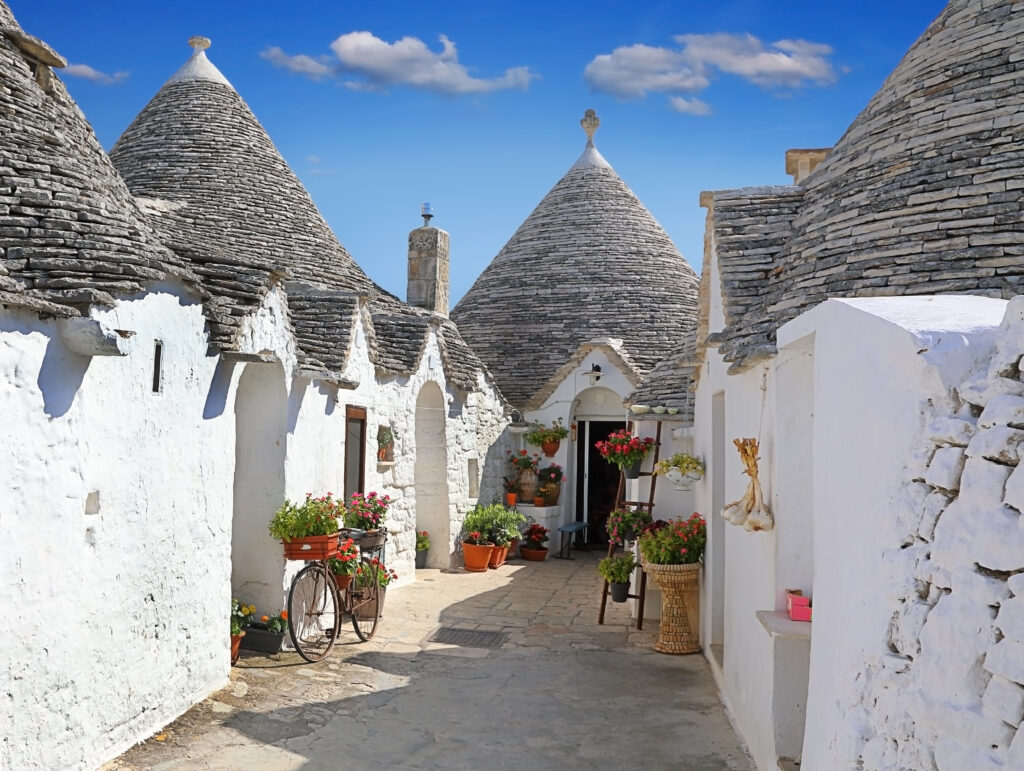 To make the most of trulli, the best town to stay in Puglia is the incredibly enchanting Alberobello. Around 1,500 of the magical huts house private residences, hotels, restaurants and bars. This is also a souvenir-lovers paradise, with artisan-created scarves, homewares and lace goods. The 20th-century Church of Saint Anthony overlooks the town with a cone-shaped dome. 
THE ADRIATIC COAST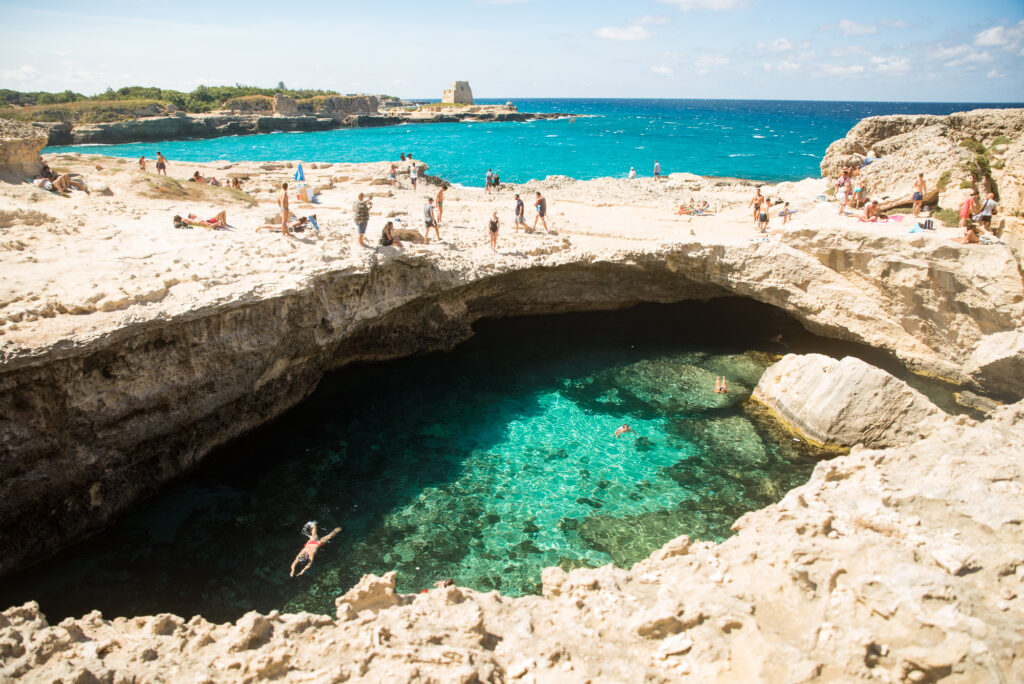 You're spoilt for choice if you're wondering where to stay in Puglia for beaches along the Adriatic Coast. It's home to the region's biggest seaside city, Bari, with a medieval centre and port. North of here is the dramatic Gargano Peninsula, which juts into the ocean with stunning coves and cliffs. 
Sample local life in small fishing towns like Giovinazzo and discover the sophisticated marina of Trani. Towering limestone cliffs create a striking backdrop for the breathtaking beach at Polignano a Mare. Perhaps best known as the ferry gateway to Greece, Brindisi's palm-lined Corso Garibaldi stretches along the seafront with boutiques to please die-hard shopaholics. 
BRINDISI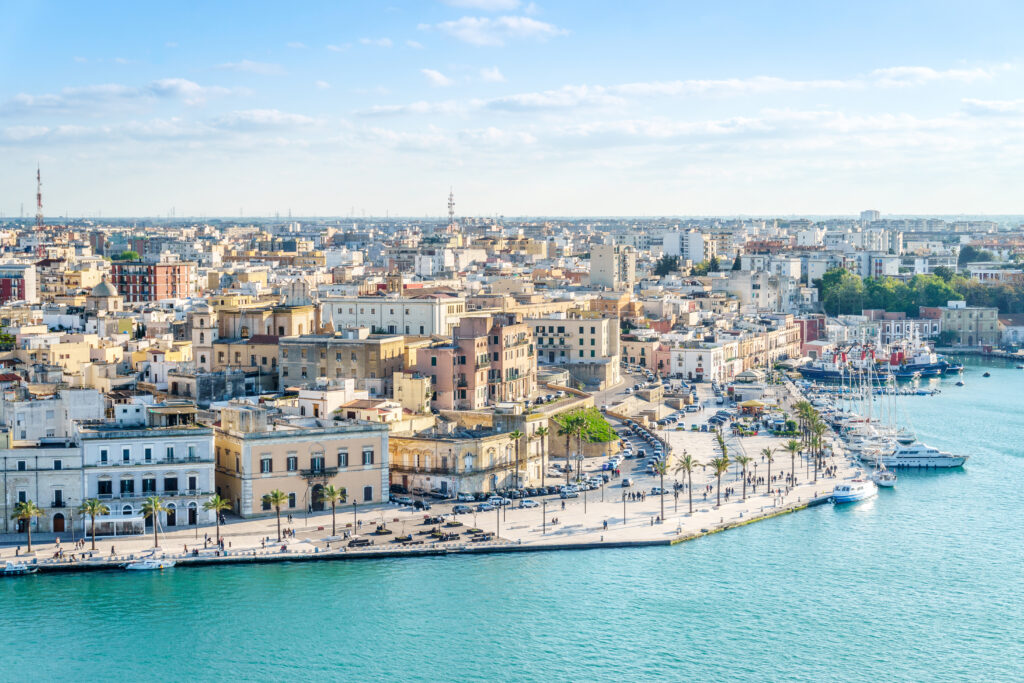 A city awash with history, Brindisi has long played a significant role in sea trade and as a bridging point for pilgrims and crusading knights. The natural port still thrives as a gateway to Greece, a cruise-ship stop and centre of trade. Eat and drink along the bustling seafront and stroll around the old town. You'll see the 13th-century Swabian Castle of Brindisi and the 15th-century Alfonsino Castle. 
TORRE CANNE / SAVELLETRI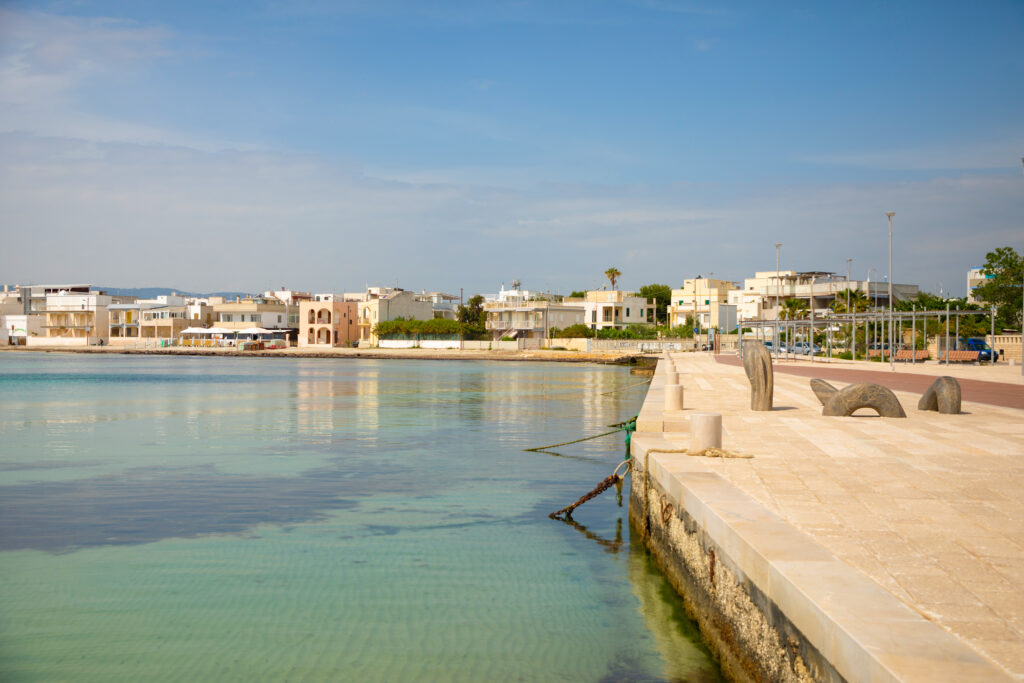 One of the best beach towns in Puglia for families, Torre Canne features natural hot springs, pristine waters and a chilled-out atmosphere. Go horseback riding in the countryside and dine at breezy seafront restaurants. Just up the coast, Savelletri is a picturesque port town with a fishing village vibe. If you're craving seafood, you'll basically eat it straight from the boat here. 
MONOPOLI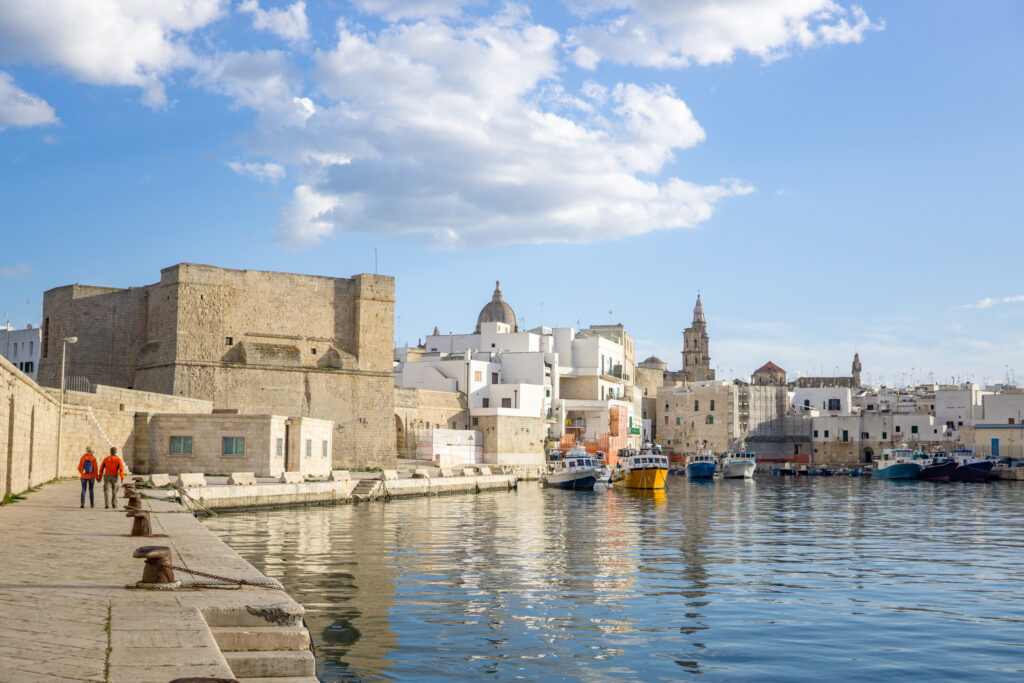 Whitewashed facades and ancient churches are the backdrops to the active fishing industry in delightful Monopoli. Fortified walls line the seafront and the sandy cove invites you to jump right into crystalline waters. Wander around the old town centre for pics of the cathedral, the Church of Santa Maria della Zaffira and Charles V Castle. Spend some time watching fishermen mending their nets around the port's lovely harbours. Other beaches near Monopoli include Polignano a Mare and Spiaggia di Porto Ghiacciolo.
POLIGNANO A MARE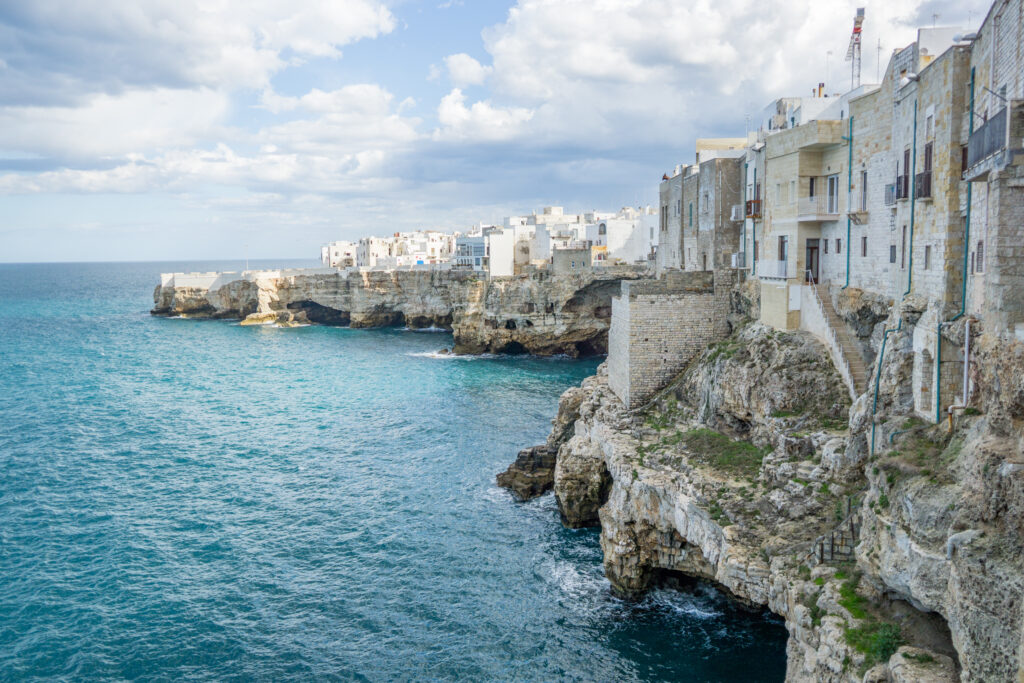 With origins tracing back to the 4th century BC, Polignano a Mare is one of Puglia's oldest towns. Dramatically perched atop limestone cliffs, the petite old town is a jumble of winding streets that lead to panoramic terraces overlooking the Adriatic. Cliff jumping into transparent water is a popular activity by the Blue Flag beach. Watch the world go by at a cafe terrace in charming Piazza Vittorio Emanuele II. 
BARI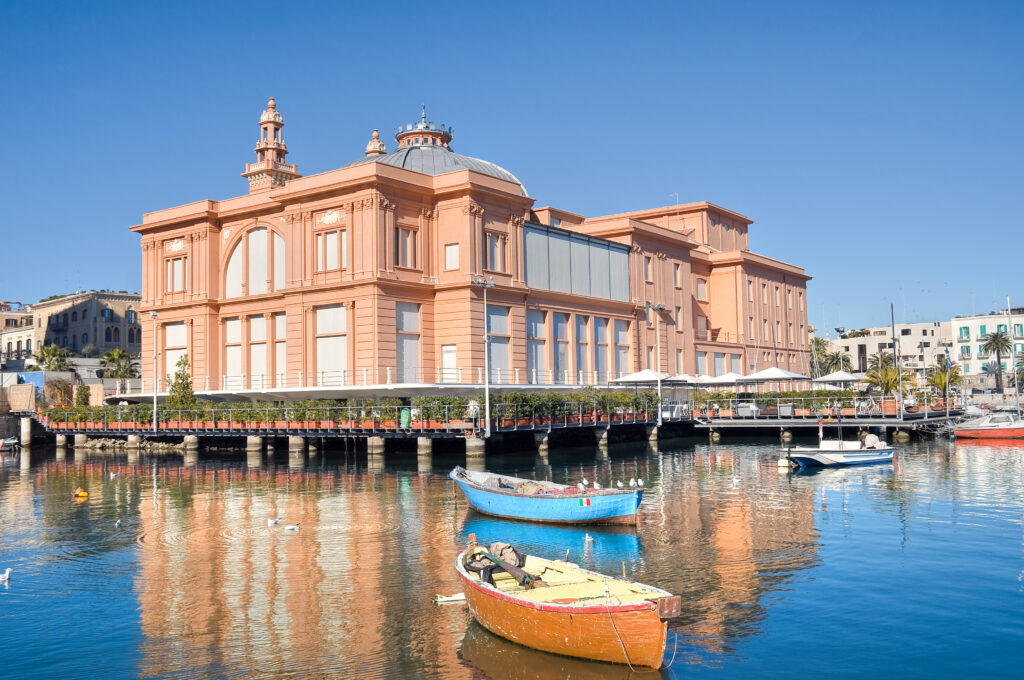 The vibrant capital offers some of the top things to do in Puglia. Grand boulevards, scrumptious street food and a dynamic nightlife scene ensure there's always something happening in this university town. Shop at modern stores along Corso Cavour, then step back in time with a stroll around Bari Vecchia. The Church of Saint Nicholas allegedly holds the remains of Santa himself. Pop down to Pane e Pomodoro beach to cool off after a big day of pavement pounding. 
TRANI & COASTAL SURROUNDS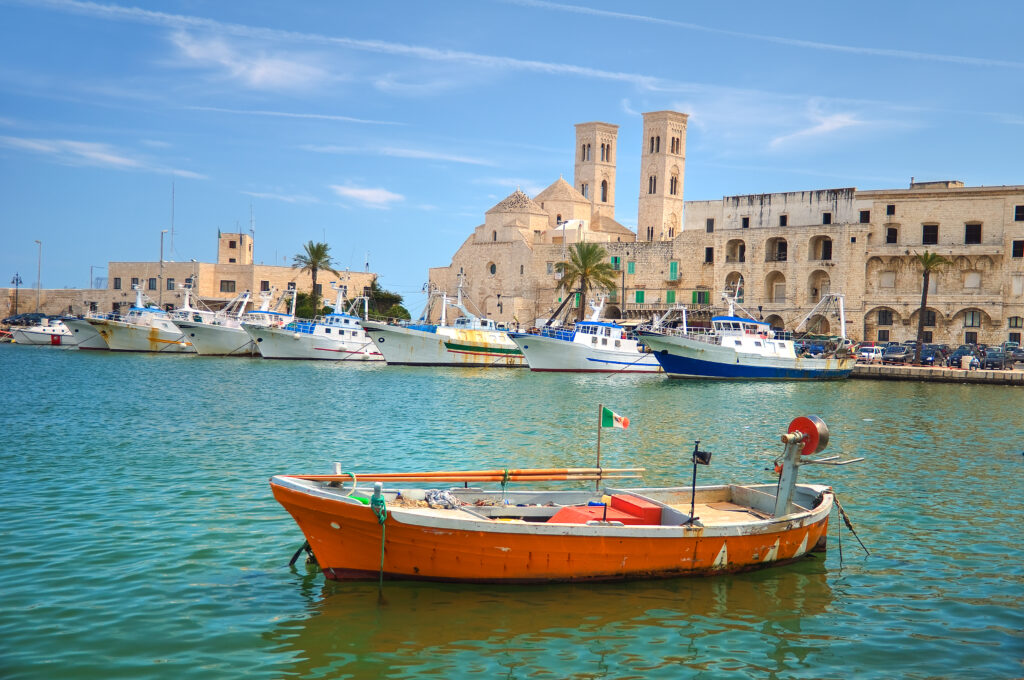 With an upmarket marina and medieval old town, Trani makes for a beautiful base for exploring the Adriatic Coast. Rather than tourists, you'll likely see chic Italians lunching by the water and strolling along the yacht-filled harbour. Backing the iconic seafront cathedral, the historic centre enchants with the faded charm of palazzi, squares and churches, along with a Jewish quarter. 
From here, hop around the lovely coastal towns nearby. Giovinazzo is a medieval fishing village with a fortified seafront and lashings of local charm. Wind through the historic centre of Molfetta from the bustling port and see the artwork of the Basilica of Our Lady of Martyrs. Visit Bisceglie with an ancient old town surrounded by gorgeous beaches and a farmhouse-dotted countryside.  
GARGANO PENINSULA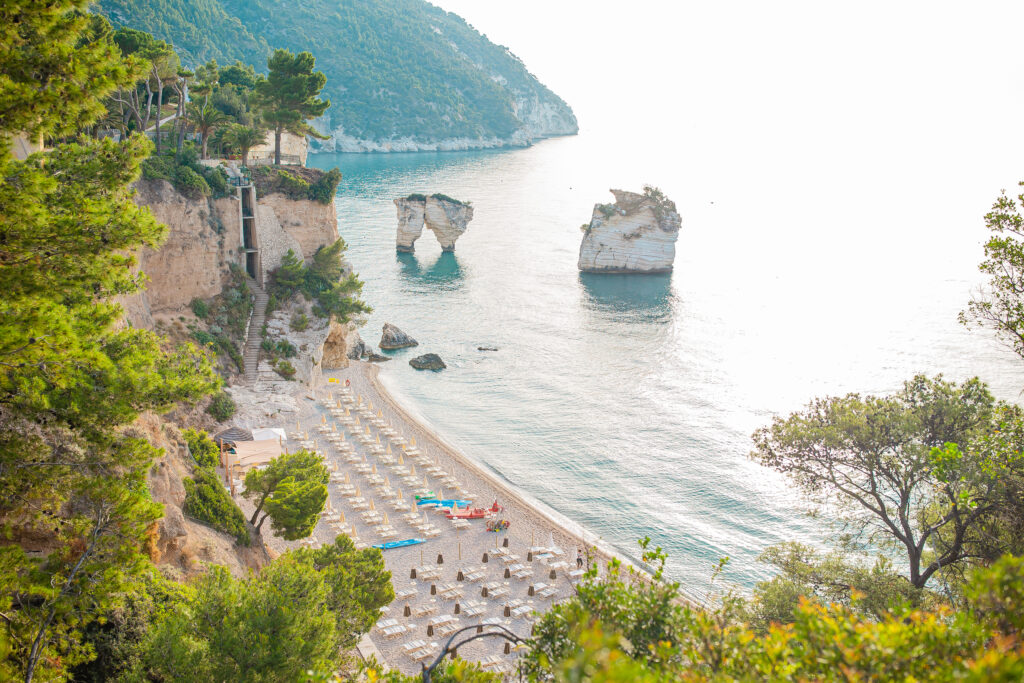 The spur in the heel of Italy's boot, the Gargano Peninsula is one of the best places to see in Puglia. This unspoilt wonderland is framed by white limestone cliffs, magical grottoes and lush forests, and much of it is protected as part of the Parco Nazionale del Gargano. If you visit during the off-season, you're likely to find plenty of remote nature scenes to yourself. 
Dozens of beaches feature hidden coves and striking cliff backdrops. To really get a sense of the awe-inspiring landscapes, take a boat trip around the coastline and pack your hiking boots for a stroll in the Forest of Shadows. Visit the mountain town of Monte Sant'Angelo to explore the cobbled, whitewashed alleyways. You can settle in at a range of seaside towns, including atmospheric Vieste.   
MATTINATA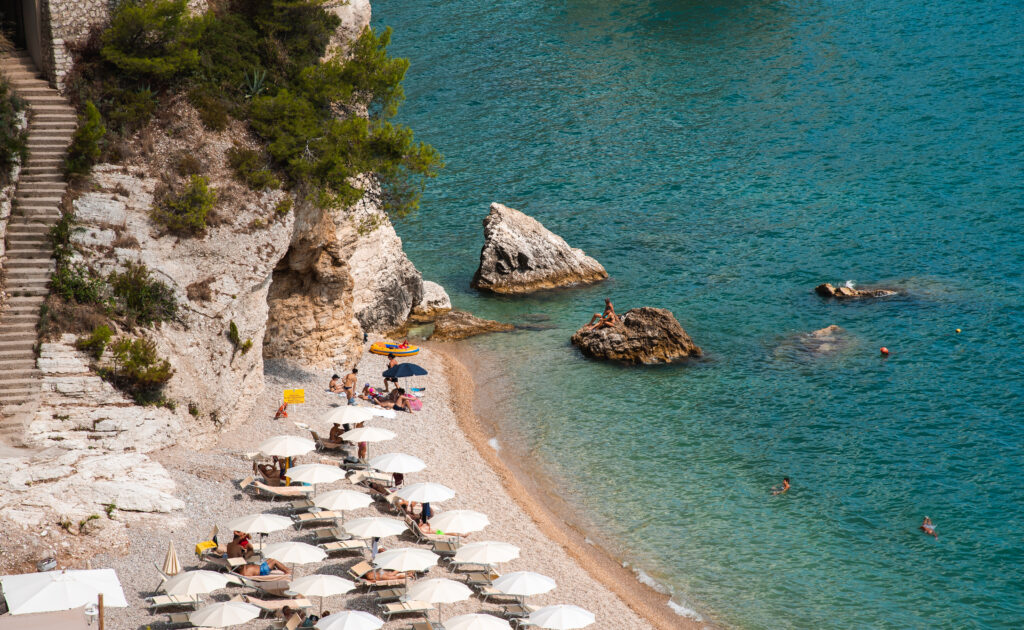 Whitewashed houses face the sea in peaceful Mattinata, which is built on top of hills and surrounded by olive groves. The area is renowned for wild orchids and chalky cliffs hide magnificent sea grottoes. Inhabited since ancient times, you'll see Roman ruins and treasures in the Archaeological Civic Museum. Otherwise, expect to spend your time lazing on beautiful beaches backed by olive plantations and soaring cliffs. 
VIESTE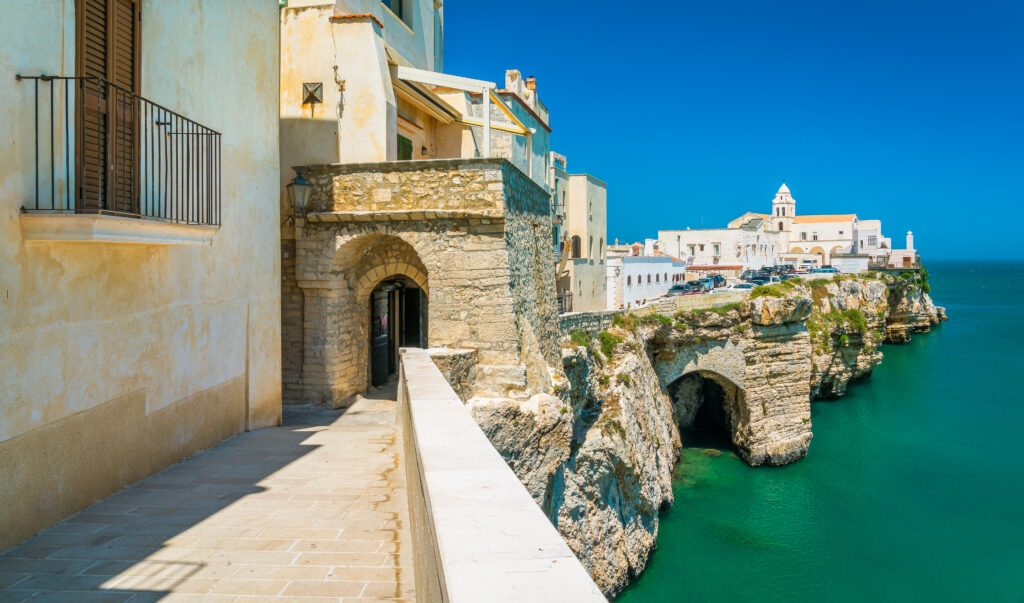 Located between two dazzling beaches on top of the sheer Pizzomunno cliffs, Vieste offers a little bit of everything on the doorstep of the national park. Wander up and down a maze of staircases in an old town that juts into the sea on a promontory, and discover the 11th-century Cathedral of Santa Maria Assunta. On Pizzomunno Beach, you'll swim with views of a soaring rock formation and relax on colourful sunbeds. 
PESCHICI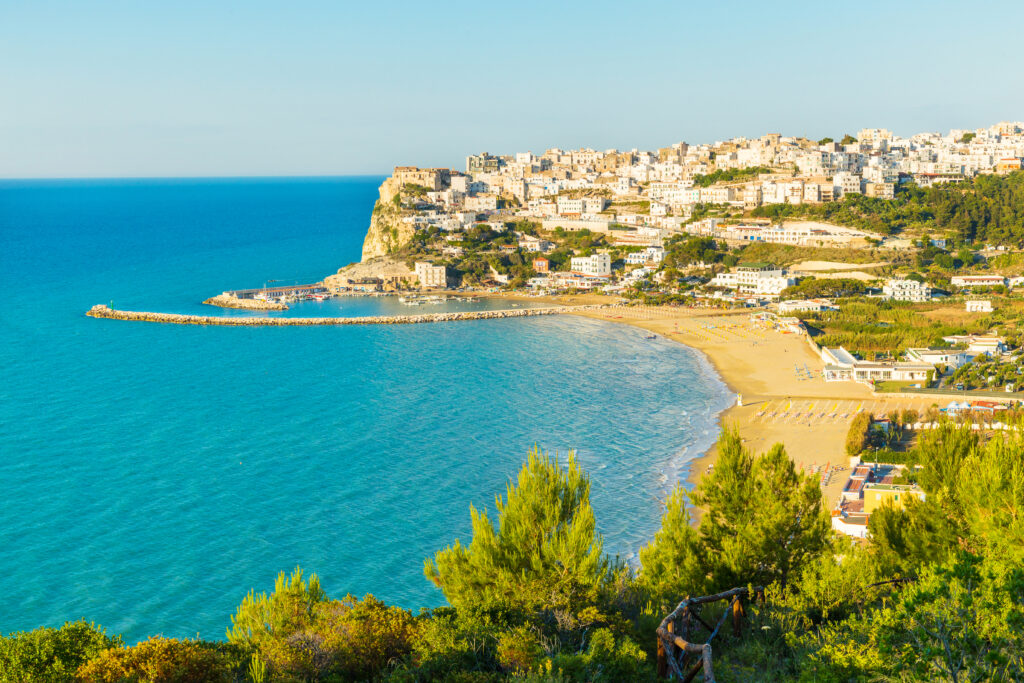 High above the sparkling sea, Peschici features the Norman Castle and Bridge Tower at the heart of stone alleyways and steep staircases. Whitewashed houses cascade down the slopes to the sea, where swaths of golden sand beckon. Unpack your bags at some of the best beach resorts in Puglia and hop between the beach and historic gems. 
VICO DEL GARGANO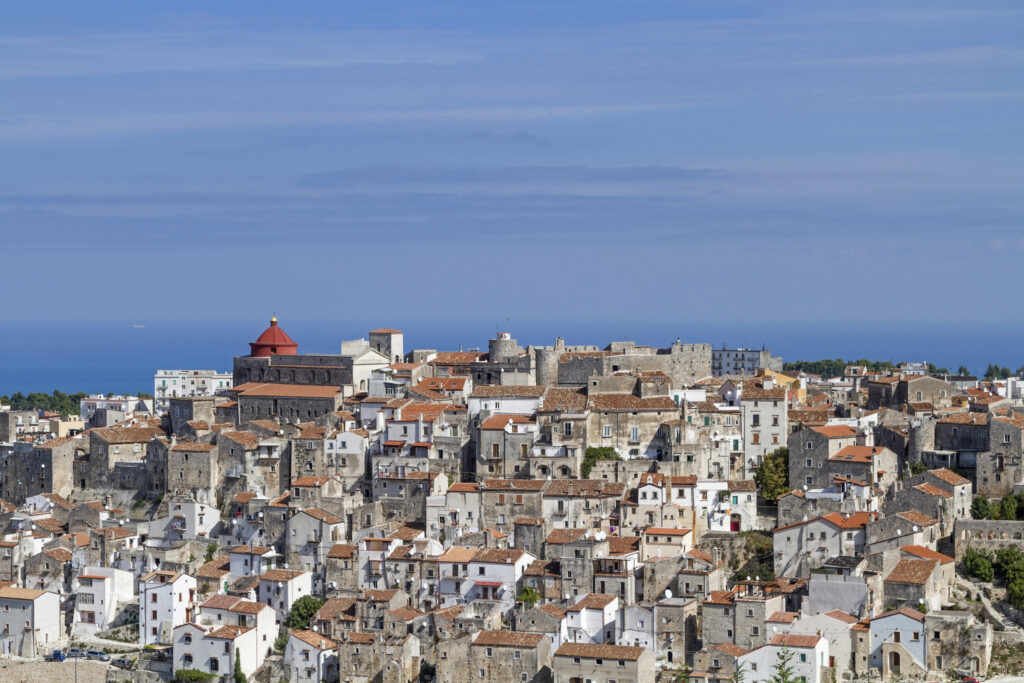 One of Italy's least-known beautiful towns, Vico del Gargano is wedged between the lush hills of the national park and the sea cave-studded coast. The tightly-packed jumble of historic buildings is a photographic marvel from a distance. Up close, you'll explore twisting laneways speckled with bell towers, chimneys and archways. On a couple's escape? Saint Valentine is the patron here, so head to Kiss Alley (Vicolo del Bacio), for a memorable moment.
TREMITI ISLANDS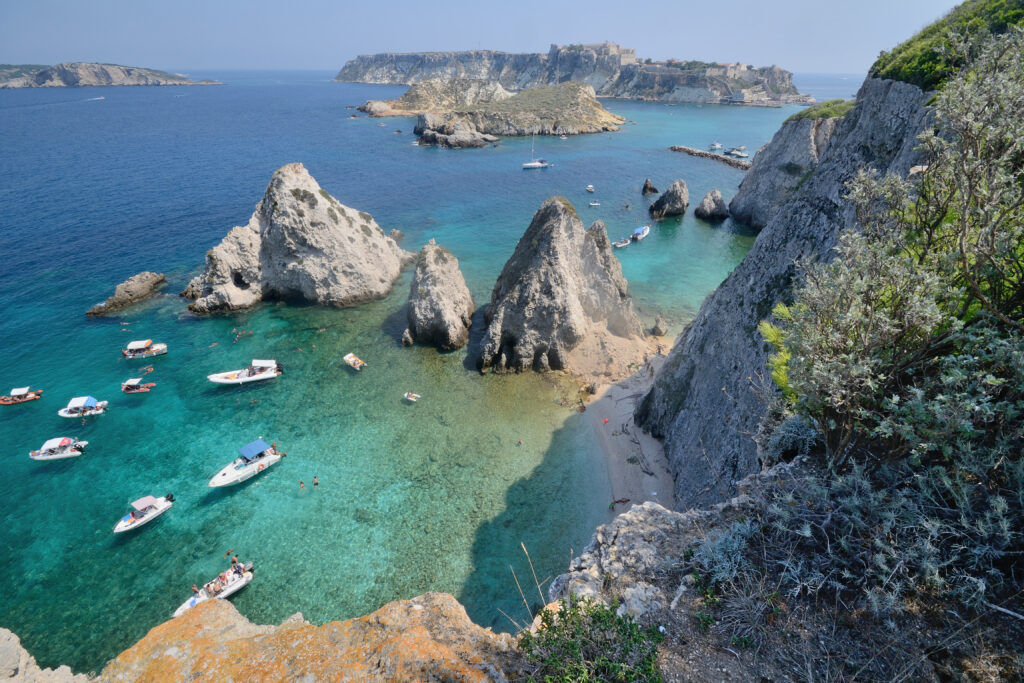 Now an idyllic archipelago just off Puglia's coast, the Tremiti Islands once served as a penal colony. Fast ferries get you over there in about two hours from towns including Vieste, Rodi Garganico and Peschici. Or, take a helicopter ride from Foggia for a bird's eye view on the way. 
Of the five islands, San Domino is the largest and home to most of the hotels and restaurants. Ringed with beaches and coves, the island is easily explored via paths that weave through shady pine forests. Hire a kayak from Cala delle Arene to find your own secluded cove. San Nicola offers a historical centre and the clifftop Church of Santa Maria a Mare. 
Uninhabited Caprara is a bird-watchers paradise and Cretaccio and Pianosa are tiny islets visited by boat. If you're a scuba diving fan, you're in for a treat with rock archways, underwater caves and sunken plane wrecks housing an abundance of magical marine life. 
---
---
Though it's a fixture on the tourist radar now, Puglia still retains astonishing, peaceful pockets of tradition and nature that are otherwise hard to find across one of the world's most visited countries. From historic, cliff-hugging towns to ancient forests and character-filled fishing ports, the best of Puglia hits you at every turn and ensures you'll never forget your holiday on the heel of Italy's boot. 
Source :www.lelongweekend.com