Hot News
Best SIM Card For France: Le French Mobile or Orange?
One of the most frequently asked is: "for my upcoming trip, which prepaid SIM card for France should I get?"  After extensive research, it came down to these two: Le French Mobile and Orange.  I felt they were the best choices but which one you should go with really depends how long you'll need the SIM card and how much data you think you'll need. Here's what you need to know if staying connected is important to you when you travel in France.
[At all times I have paid for Le French Mobile using my own money]
1. Prepaid SIM Card For France
Having an unlocked cellphone is key to being able to use a local prepaid SIM card for France. Your cellphone provider can unlock your phone for you. 
Nowadays, the SIM card will come in all three sizes to fit in your cellphone: mini, nano, and micro. The cost of the sim card is usually negligible or even free. It's the cost of data and calls where companies make their money. If I can pay less than $120 for 30 days and beat my home provider's price, it's worth it.
2. French Mobile Phone Providers: who sells French SIM cards? 
There are French network operators such as Orange, SFR, Bouygues Telecom, and Free Mobile and virtual mobile operators (MVNOs) like La Poste Mobile, Lebara, Le French Mobile, and Lycamobile. The MVNOs don't own a network but obtain bulk access at wholesale prices, so they are basically resellers. Some are better than others.
Many of the plans are only available to French residents.  If you're just visiting France and not going to live there, you do NOT want the "forfait sans engagement". It has a rolling contract and auto-renews each month. It often requires that you have a French bank account to get a French mobile phone and this type of plan.
Prepaid plans are the best for travellers. It came down to two companies for me: Orange and Le French Mobile. Neither one is perfect and some people love Orange and some people hate Orange. The same goes with Le French Mobile.
3. What To Consider When Getting A Local SIM Card
If you want to do your own research, these are five things to consider when comparing local SIM cards for France:
Coverage: will it cover a broad area of France or the area you'll be in?
Validity period: Will your data last for 14 days? 30 days? Longer?
Costs
Reliability of service
Support:  I am not alone in running into problems and needed to reach customer service. If customer service only speaks French, this could be a factor if you are not fluent.
Orange and Le French Mobile are both good but certainly not perfect (biggest complaint about both: customer service). The biggest problem usually lies with the user not putting in the correct APN settings and not turning on roaming.
4. Orange Holiday SIM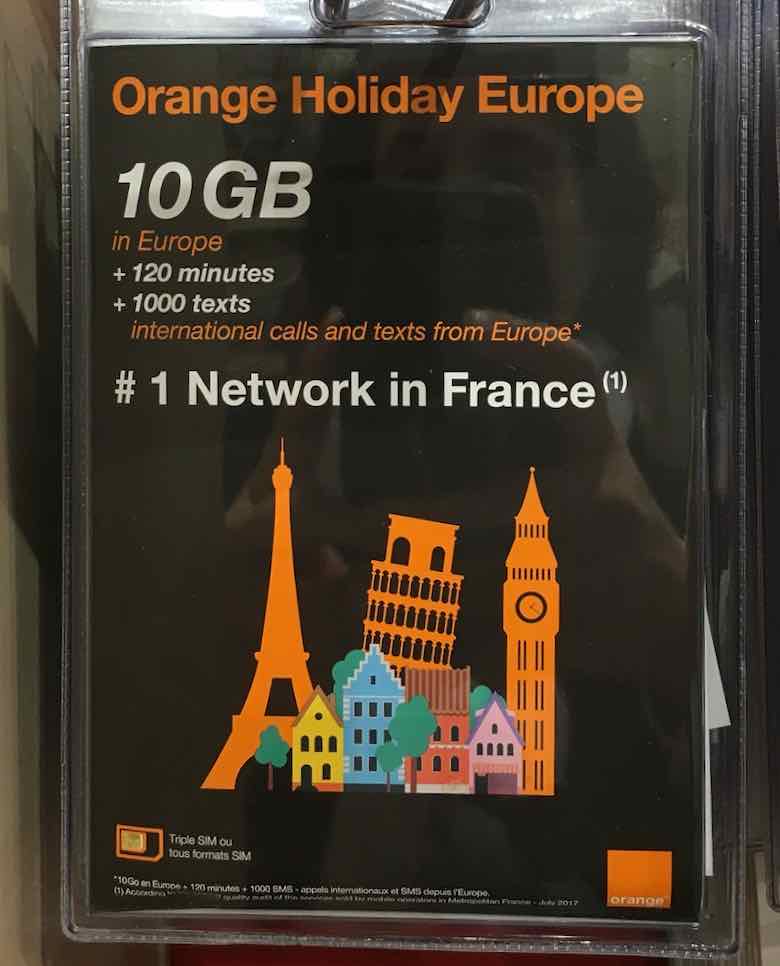 Orange is one of the biggest French cellphone providers. It is said to provide the best coverage throughout the country. The plan that is most popular for travellers (ie. visitors who are travelling in France and the EU for a few days to a few weeks) is the prepaid Orange Holiday SIM Plan. Many people like this company and its SIM card but there are two drawbacks: the price and the duration of the plan. Here's what you should know:
(a) Orange Holiday Plan
Coverage: excellent in France; this SIM also covers you all over the European Union (4G)
Validity Period: 14 days
Cost: 39.99 € gives you a French phone number, 20GB of data, 120 minutes of international calls and 1000 texts to the rest of the world and unlimited calls/texts within Europe.
Holiday top-ups: (€20 or 40 € ) include data (5 GB or 20 GB respectively), plus the same international calls and texts and roaming throughout Europe, for an additional 2 weeks or 31 days.
Requirements: an unlocked phone and some form of identity (ie. passport) to register your SIM 
(b) Set-Up
Orange boutiques: there are many locations and in most cases, the salesperson can install and set up your SIM for you (including changing your phone's APN settings). Do this to ensure everything works before you leave. Hopefully, you'll get someone who speaks English. 
After the 2 weeks, you need to top up your plan. You can top up online (website is in English) or get a top-up card (voucher) at most convenience stores. 
(c) Important Points
Once your first phone call or text is made, your SIM card is activated and you can get your French phone number by texting "225"
The Holiday SIM card (& your French mobile number) expires after 6 months if not topped up. Set up an account via the Orange website and top up anytime before the 6 months ends. The SIM number will be active for another 6 months.
You can tether your phone to other devices.
Customer service: supposedly there are English-speaking phone customer service reps but from what I've read, when they can't get their SIM card to work, many customers cannot get through and most of the web pages are in French.
Website: Orange Holiday and FAQ
5. Le French Mobile SIM
Le French Mobile is the prepaid SIM Card I've been using for the past 7 years. I looked into other options, but in the end, Le French Mobile's coverage, price, and ease of use made it the winner. 
Le French Mobile is a French company that is a virtual mobile operator (MVNOs). They are managed by the Transatel group and are not a network like Orange but the main network that is used is Orange. The hardest part is getting your head around their plans and how they work.
(a) Le French Mobile Plans
Coverage: excellent-they use the Orange network and the speed is 4G LTE
Validity period: 30-60 days depending on the plan/bundle
Cost: 16.94 € and higher depending on the plan/bundle. Order either a "SIM + Data France" or the "SIM + Credit France". 
Requirements: an unlocked phone and some form of identity (ie. passport) to register your SIM.  After you have made your first call or first data connection, you have 15 days to complete and send in the personal information form that is included in your purchase. This is what all providers require and if you don't send it in (mail or email), your account will be suspended.
They have free worldwide delivery and it takes about 2 weeks to get to North America. [Note: you also have the option of buying a cell phone through Le French Mobile]. 
Here's the difference between the two types of Le French Mobile plans:
SIM + Data France
This is a data SIM card for France that comes with 2GB of data, a French phone number, and 2 Euros of credit already loaded onto it. Why the 2€  credit? In case you need to make phone calls. The calls will be about 0.20 Euros per minute so you get 10 minutes worth of calls. Once the 2GB is used up, you can recharge your account with more Euros so you can buy another bundle. Or, you can just leave the credit there and do (more expensive) roaming.
SIM validity period: 90 days
Cost: 16.94 Euros
SIM +Credit France
With this plan, you spend 25 € and get a SIM with a French phone number and 25 € worth of credit to be used to "roam" or to buy a bundle.  A bundle is a data package with a set amount of data available to use. It is much more economical to buy a bundle because "out of bundle" (roaming) costs are high. If you don't buy a bundle you're going to use your 25 € credit to "roam", where each call, text, and data use is charged by the minute/use and it will be costly. Each MB is 0.09 Euros (so 1 GB of data would be 90 Euros).
Price: one of the great things about Le French Mobile is that they often have sales and when you buy certain amounts of credit you are often given a bonus. I recently bought 45 € credit to add to my SIM card and got a 10 Euro bonus. I then use that 55 € credit to buy a bundle.
A bundle can be 2 GB for 10 Euros, 5 GB for 20 Euros, 20 GB for 40 Euros, and 100 GB for 65 €. [Bundles for the European Union are slightly more expensive]
SIM validity period: indefinite
Cost: 25 € 
(b) Set Up
To set up your phone and buy a bundle here's what to do:
STEP 1: When you arrive in France use the PIN code that was included in the email to unlock your phone.
STEP 2: Connect to the internet using the free wifi (ie. at Charles de Gaulle airport)
STEP 3: Download the APN settings. All the instructions are on the Le French Mobile website and included in the delivery of your SIM card.
STEP 4: Once you are connected, you will receive this message:
"Welcome to LeFrenchMobile. Your phone number is XXXXXXX. To check your balance, send BAL to 22213. To recharge your account, visit www.lefrenchmobile.com
STEP 5: Send the message "BAL" to 22213 into iMessage or SMS. If you purchased a SIM + Credit (with the 25 € credit) the message will be:
"Your remaining credit is 25 €.". 
If you purchased a SIM+ Data (2GB), the message will be:
"Your remaining credit is 2 €. French data bundle(s): 2GB including 2GB to be used by (date)".
STEP 6: If you decide to buy a bundle (ie. 2GB) using your 25 € credit, type in BUNDLE FR2GB and send it to 22213. A message will come back: 
"Congratulations. You have successfully subscribed to LeFrenchMobile data bundle. To check your new balance, send BAL to 22213."
STEP 7: To check how much data you have, type BAL and send it to 22213. The message will come back:
"Your remaining credit is 6 €. French data bundle(s): 2GB including 2GB to be used by (date)".
[Please double-check Le French Mobile's website for complete instructions in case details in these steps have changed]
(c) Important Points
Customer service: available in English
You cannot add a bundle until your remaining data is under 100MB
You get your phone number by making a call or sending a text.
Setting up your account online can only take place once you have activated your card and gotten your phone number. Once those two steps are done, you can add credit or buy a bundle. You can pay via Paypal or credit card.
1-800 numbers will NOT work. You might consider getting a SKYPE credit to make these calls
You cannot tether your phone to other devices. I use a hotspot and put a SIM card in it when I want other devices to use data (accessing the internet).
If the SIM card is unused for more than 1 month, it will be subject to a charge of 0.9 Euro per month—-in other words, 0.9 Euros will be deducted from the remaining credit on your card. If you don't have enough credit on your account, you'll have to recharge your SIM or else the card will be deactivated after 2 months.
6. Comparing Orange Holiday vs. Le French Mobile
When comparing the two companies, the best deal all depends on how much data you think you'll need and how long you'll need it. Neither company has unlimited calls. You either get so many minutes or pay by the minute. Here's a cost comparison between Le French Mobile and Orange Holiday SIM for 1 month:
Orange
14 Day Cost: 39.99 € (20 GB)
1 Month Cost: 39.99 € + 20 € top-up = 60 € (20 GB for the first 14 days and then a top-up of 5GB for the next 14 days) [Duration of each bundle: 14 days]
Le French Mobile
14 Day Cost: 16.94€ ( 2 GB data + 2 € for phone calls)-SIM + Data France (note: it will actually last 30 days)
1 Month Cost: "SIM + Data France" =16.94€ OR "SIM + Credit France" = 25 €. Use this credit to buy the 5GB bundle and have 5 € left for phone calls (this credit doesn't expire). (30 days)
Conclusion
For 14 days: 20GB with Orange for 39.99 € or 2GB with Le French Mobile for 16.94 €
For one month: 25 GB with Orange for 60 € (28 days) or 5GB with Le French Mobile for 20 € (30 days)
As mentioned, your choice depends on how much data you need and for how long. Le French Mobile ends up being cheaper and your plan lasts longer but it can be a little more complicated (a few extra steps); however, I feel that it is the best sim card for France for visitors and in all the years I've had mine, I have found the process to be easy.
7. Calls/Data Using Your Home Cellphone Provider
Many people want to stay with their home cellular carrier when they travel but it can be costly if you roam or get one of their travel plans. If you "roam" and don't get a travel plan, the charges can be outrageous. Here's an example of the roaming charges: $1.50 per minute for a phone call and $5.00 per MB of data. If you usually use 1GB of data a month. that equates to $5000!!! (That's why you should NEVER roam outside of your country if you don't have a plan).  
An alternative is to get an international plan from your home cellphone provider. It's easy, it's cheaper, you keep your phone number, and everything will work as if you were at home. The only difference, especially if you live in Canada, is the price of the international plan. The high price!  The mobile network company I use is Telus and their two travel plans are pretty much the same as the other cellphone carriers:
Easy Roam
$13 a day where you use YOUR minutes, data and texts just like you would at home. For example, if you have a monthly plan that gives you 3GB data and unlimited phone calls and texts, that's what your plan will be when you are in France…for $13 a day. Going for 10 days? That's $130. [Note: For each billing cycle you won't pay more than $180 in a billing cycle].
Roaming Pass
This no longer offered by Telus but other providers might have it. This pass for Europe allowed you to purchase data/calls for a set period at a flat rate, much like "pay as you go".
Note: Prices are subject to change. 
Pin to your favourite board on Pinterest
Source :www.francetraveltips.com