Hot News
How To Get A Haircut In France And In French!
I think most people will agree that the idea of changing hairdressers can be a frightening idea. Can you imagine getting your hair done in a foreign language in a foreign country? What about a hair cut in France and do the whole experience in French? I more than survived and did not end up with green hair. (Not that there's anything wrong with green hair. It's just not for me!)
When I travelled to France for 9 weeks, I knew I couldn't last that long without getting my hair cut and coloured. I was very hesitant to even attempt to get a haircut in France because it wouldn't be done by my stylist who KNOWS my hair, and I feared I'd screw things up when trying to convey what I wanted in French. The good news is that it went very well and it's an experience I highly recommend, even if you are only visiting France for a short period of time. Here are my tips so you can leave a happy customer. 
1. Preparing To Get A Haircut In France
Products And Photos
Before I left for my trip, I visited my hairstylist to find out what hair colouring products she uses. (Yes, I have some grey/white hair). I explained that I would likely get my hair cut and coloured halfway through my trip. She showed me the tube of colouring and advised that if I showed it to the hairdresser in France s/he would have some idea of the best colour for my hair. I took a photo of the box so I could bring it to the hair salon. I also made sure I had some photos showing some of my best haircuts.
Tip #1: Gather photos of your favourite hair styles and product information from your stylist to bring along to your appointment.
2. Hair Vocabulary And Terminology
When I get my hair done in Canada, I have it washed, coloured, cut, and am given a blow dry. Sometimes my stylist uses a flat iron as well. I've been going to the same salon for years and Sophie, my stylist, knows all about my lifestyle and all about my hair. 
I used to say to her, "I want my hair to feel long, but look short". Yes, she thought I was crazy but kind of understood what I was talking about. Whether it's in North America or France, it takes courage to try a new hair stylist. But taking a risk can also bring rewards.
3. Hair Terms
Dry = secs
Curly = bouclés
Damaged = abîmés
Dyed = colorés
Fine = fins
Frizzy = frisés
Hair = cheveux
Permanent (as in "permed")= permanentés
Thick = épais
4. Questions For Your Hairdresser–In French, Of Course
What kind of cut do you recommend (for my face)? = Quelle coupe recommandez-vous (pour mon visage)?
I'd like a cut like this picture  =  Je voudrais une coupe comme sur cette photo.
How much is the haircut? = Combien coûte la coupe de cheveux?
5. Haircut And Colouring Vocabulary 
Hair salon = salon de coiffure 
Hairdresser = coiffeuse (feminine) coiffeur (masculine)
I would like to make an appointment to get my hair cut and coloured = Je voudrais prendre rendez-vous pour une coupe et une coloration
Haircut = une coupe de cheveux
Cut short = la coupe courte
A trim = couper les pointes
Wash, cut, and (blow) dry =  shampoing, coupe et brush
Shampoo/wash = le shampooing
Colour my hair = colorer les cheveux
Touch up the roots – refaire les racines
Hair spray = de la laque
Hair Treatment Terms
Treatments = les soins et traitements
Hair loss treatment = un traîtement antichute
Highlights = les mèches
Hair conditioner = une crème ou après-shampooing
Deep hair conditioner=un masque
Hair Equipment Terms
Blow dryer = sèche-cheveux 
Curling iron = fer à boucler
Curlers = des bigoudis
Flat iron (straightening iron) = un lisseur 
Overhead hairdryer = un casque coiffure 
Hair Styling Terms
I'd like a cut and blow dry = Je voudrais une coupe et brush 
Blow dry or straightening = le brushing
Layered = en dégradé
Blunt cut = au carré
"Bedhead" or "Just out of bed" look (tousled and unkempt)=  les cheveux en bataille or les cheveux en prétard
Semi-permanent colour = semi-permanente
[Please let me know if I've made any mistakes or if there's a better way of saying something.]
Tip #2: Make a list of phrases and vocabulary you'll want to use when you make your appointment and speak to your hair stylist.
6. Hair Salons In France
One of the biggest concerns I had was: what salon will I go to? Part of my decision depended on when I felt I needed a cut and colour. Another depended on where I might be. Some towns are incredibly small and getting an appointment might be difficult.
I really wanted a recommendation and not just from an online review and didn't want to ask the owner of my Airbnb as he was male, preferring a woman's recommendation. I reached out to a French Facebook group and asked for advice. One person suggested what she does in the United States: when she sees a haircut she likes, she compliments the person and politely asks what salon they go to, or who cuts their hair. Not a bad idea.
A few people suggested I go to a Franck Provost hair salon. It is a chain of well-regarded salons and I was told, "you can't go wrong with Franck Provost". So, that's the one I chose and there happened to be one in the town of Sarlat in the Dordogne where I was staying for a week.
When I was having lunch in Sarlat the day before my appointment, I had a conversation with a French lady and her daughter. They advised me to tell the hair stylist to only cut a little as they tend to cut too much. 
Tip #3: Get recommendations from locals on where to go to get your hair done. Besides Franck Provost, another well known salon chain is Dessange.l You could also visit the hair salon in a department store if they have one.
Tip #4: In France one does not leave a tip after a meal in a restaurant. If you REALLY loved the meal and service, a few Euros is fine. The same practice is used in hair salons. No tip is expected. No need to leave one unless it's absolutely spectacular. 
7. Pricing
The pricing for hair cuts and colouring is similar in France as it is in Canada. At the salon I go to in Toronto, there is a "set price" by my stylist for a wash, cut and blow dry and a different price for colouring your hair plus a wash, cut and blow dry. In both cases, a hair conditioner is added after the shampooing. It's all part of the package price.
In France it seems to be more itemized.  Each "part" of the salon experience is priced separately. There are add-ons. You want a regular hair conditioner? That's 5 Euros more. Deep conditioning treatment (masque) put on your hair? That's an extra 8 Euros. You want to colour your hair? That's 39 €. So, prior to your appointment, think about what you want done.
8. Franck Provost Hair Salon In Sarlat
I decided that things can always be "fixed" and if the end result of my hair salon visit did not turn out well, I could always get it redone somewhere else. Plus, no one—-no family or friends—-would see me for another 4 weeks so only strangers would see me. I had enough faith that I would not leave the salon with green hair. If the cut were that bad I'd wear a hat….every day for the rest of my trip!
I dropped in on a Monday and while no one spoke English in the salon, I did my best to explain in French that I wanted a haircut and colour. I made an appointment and showed up two days later.
9. My Experience Getting A Haircut In France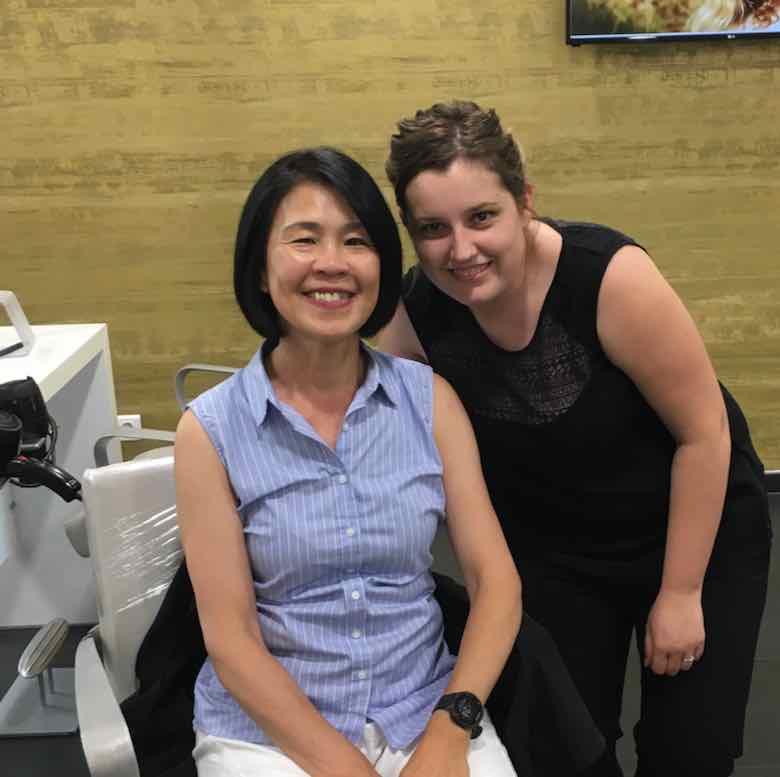 The stylist who did my hair was named Carine and she didn't speak any English, but that was okay. It was actually fun trying to communicate what I was after in French. She and her assistant, Nick (?) from Portugal, were very friendly and we talked about Justin Bieber, hockey, and the NBA. The entire experience took 2 hours. I felt Carine was very professional as well as particularly careful and gentle. It was a relaxing experience, as it should be. I felt very safe in her hands.
Using the photos I had on my phone, I explained that I had been travelling for 5 weeks and needed a cut and colour (Yes, my roots were showing. I'm not proud.). I explained that I wanted my hair coloured, washed, conditioned, cut, and styled.    While I did show the photo of the tube of colour, Carine simply examined my hair colour and determined what colouring to use. The good news? She chose the colour bang-on! (Relief).
The cost was comparable to what I pay in Toronto. Here is a breakdown:
Wash my hair  6 €
Colour           39 € 
Conditioner     8 €
Haircut          16 €
Style (Blow dry/flat iron)  21 €
Total cost: 90 € (plus a few Euros for a tip)
Overall, I would say that getting a colour and haircut in France…and in French… is fun and something that can be very enjoyable—-just like at home. But it's in France so it's so much better! A slightly different haircut and style are what we all need sometimes, so the next time you are in France, do consider getting it done. If you're concerned about the language issue, you'll likely have an easier time finding a stylist who speaks English in Paris as there are so many more tourists and hair salons.
10. Tips For Getting Your Hair Cut And Coloured In France
Tip #1: Gather photos of your favourite hairstyles and product information from your stylist to bring along to your appointment.
Tip #2: Make a list of phrases and vocabulary you'll want to use when you make your appointment and speak to your hairstylist.
Tip #3: Get recommendations from locals on where to go to get your hair done. Besides Franck Provost, another well-known salon chain is Dessange.l You could also visit the hair salon in a department store if they have one.
Tip #4: Don't leave a tip…unless you really feel the service and cut were fabulous. If you do, a few Euros is fine.
If you're looking for more tips while travelling to or in France, check out these posts in Travel Tips.
Pin to your favourite board on Pinterest
Source :www.francetraveltips.com